Lindsey Vonn Drug Tested On The Red Carpet: Has The USADA Gone Too Far?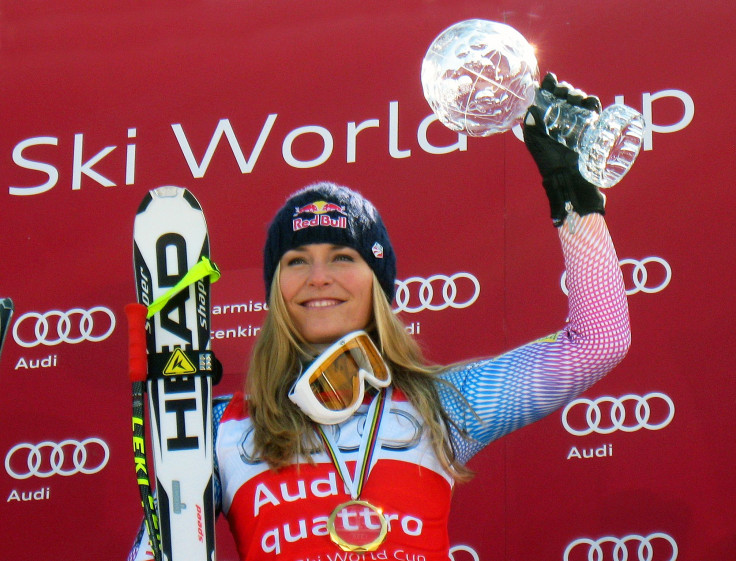 Celebrity skier Lindsey Vonn was taken off the red carpet Monday night at the Council of Fashion Designers of America (CFDA) Awards and escorted into a bathroom stall by the U.S. Anti-Doping Agency (USADA) for drug testing. She was unexpectedly required to provide a urine sample. The sample was then sent to the lab, with results not immediately available.
All Olympic athletes are subject to random drug testing at any time and are additionally obligated to fill out forms notifying the USADA where they will be at all times.
Vonn's spokesman, Lewis Kay, confirmed Monday night's drug test, and said that it was routine for the Olympiad to perform drug tests and she didn't find it to be a big deal.
"She understands it is part of the job," Kay told the Associated Press in an email Wednesday.
The USADA alerted Vonn by cell phone to tell her they were outside of the Lincoln Center in New York City, where the event was being held. She and her companion at the event, designer Cynthia Rowley, who custom-made the white plunging neckline dress Vonn was wearing that night, invited the USADA in. The government officials stood guard outside the restroom during the five-minute collection process, a standard out-of-competition testing pool procedure Vonn has been doing for 12 years.
USADA spokesperson, Annie Skinner told the Associated Press, "We appreciate her professionalism and for accommodating this process, which at times can be inconvenient."
Mandatory drug testing for Olympic athletes began in the 1968 Summer Olympics held in Mexico. Since then, numerous athletes have been disqualified for taking performance-enhancing substances, also known as doping. Although testing regulations and frequency have gone up since the late 60s, doping is still taking place today.
In the recent 2012 Olympics held in London, a total of 24 athletes were provisionally suspended, and nine disqualified for anti-doping rule violations last year alone. In addition, Olympic hopefuls must undergo testing in a six-month period, prior to the opening day. At least 107 athletes were banned for testing positive last year. All samples are kept on record for eight years so that, as new technology and detection methods develop, retesting can reveal possible previous doping that was once missed.
The International Olympic Committee systematically administers tests for the top five finishers, plus two random competitors for every event, in addition to unannounced out-of-competition testing, such as the one Vonn was required to do.
The 28-year-old Minnesota native has four overall World Cup Championships under her belt. Added to her collection of wins was a gold medal at the Vancouver Olympics in 2010. Vonn has begun her training after sustaining knee injury from a serious ski crash during the Alpine World Championships in Austria this past February and is expected to compete in the 2014 Games in Russia.
Aside from protocol drug-testing, Vonn has received recent publicity for dating American professional golfer, Tiger Woods. He did not attend the CFDA Awards with her where the drug-testing took place.
The CFDA Awards is a black-tie affair, considered the fashion industry's Oscar equivalent, and included attendees Jessica Chastain, Hillary Clinton, and Andy Cohen.
Correction, June 6, 2013: A previous version of this article stated that Kazakhstan cyclist Alexandre Vinokourov was stripped of a gold medal after testing positive for anti-doping violations in the 2012 Summer London Olympics. That is incorrect. Vinokourov won a gold medal in the Men's road race and did not test positive for doping in the 2012 Summer London Olympics. Vinokourov was only formerly banned for two years after testing positive for blood doping in the 2007 Tour de Franc. The failed test was the third doping issue that occurred in the 2007 Tour.
Published by Medicaldaily.com