Listeria Outbreak From Recalled Crave Brothers Cheese Results In Miscarriage: What Pregnant Women Need To Know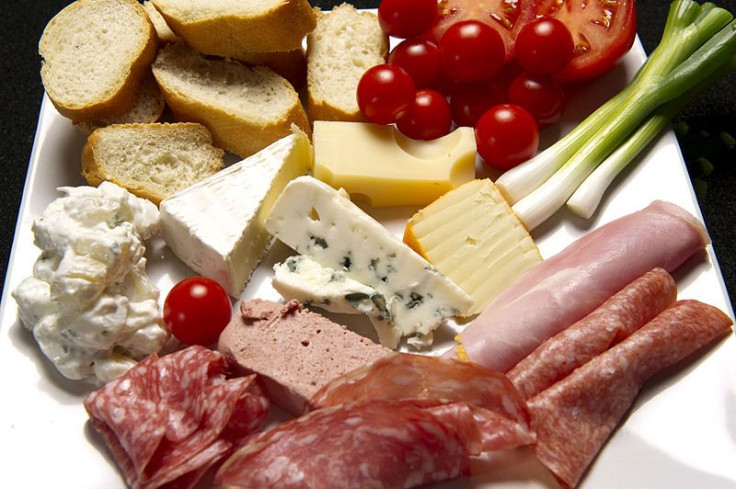 An outbreak of Listeria monocytogenes bacteria was traced to soft cheeses from Crave Brothers Farmstead Cheese Company of Wisconsin distributed by Whole Foods and other retailers. The contaminated products have resulted in one death, one miscarriage by a pregnant woman, and four others who were hospitalized. Whole Foods Market and the U.S. Food and Drug Administration (FDA) is warning consumers to throw away the contaminated cheeses and retailers to destroy them.
A general recall by Crave Brothers, the farmstead cheese operation in Waterloo, Wis., was announced last week. The contaminated soft cheeses were distributed through mail order and several retailers, with Whole Foods being the only national retailer. Affected products are three pasteurized soft cheeses — Les Frères, Petite Frère, and Petit Frère with Truffles — with a make date of July 7, 2013 or prior.
Pregnant women are among the most susceptible people to Listeria monocytogene, with one in seven (about 14 percent) of the 800 annual cases of listeriosis in the U.S. occuring among them. Scientists estimate that pregnant women are ten times more susceptible to listeriosis compared to the general population. Listeriosis in pregnant women can lead to miscarriage, stillbirth, premature delivery, or life-threatening infection of the newborn. About 22 percent of listeriosis cases in pregnant women result in stillbirth or neonatal death.
While recent outbreaks involving large batches of certain foods may have caught headlines — including this most recent outbreak, the contaminated Marte Brand Ricotta Salata cheese oubreak of 2012, and a deadly 2011 outbreak involving Jensen Farms cantaloupe that killed 33 people — smaller amounts of Listeria bacteria have been confirmed in food that was never recalled. In fact, listeriosis is the third leading cause of death related to food poisoning.
As a precaution, pregnant women are advised to avoid certain foods that can harbor the deadly bacteria, including:
Meats served cold. Avoid hot dogs, luncheon meats, cold cuts, and refrigerated pâté from the deli. Fermented or dry sausages should be avoided unless they are heated to an internal temperature of 165 degrees farhenheit. Wash hands, surfaces, and utensils exposed to these meats. Shelf-stable meat spreads that do not require refrigeration, however, are safe to eat, but should be refrigerated after opening.
Cheeses. Soft cheese such as feta, brie, Camembert, blue-veined, and soft Mexican cheeses, such as queso blanco, queso fresco, and queso panela, should be avoided. However, if these are clearly labelled with "MADE WITH PASTEURIZED MILK," they are safe to eat. Semi-soft cheeses, such as string cheese and mozarella, are also generally safe.
Seafood. Similar to meats, refrigerated smoked seafood should be avoided unless it is cooked or in a shelf-stable product that does not require refrigeration before opening. However pregnant women must eat seafood in moderation and avoid certain types according to another set of guidelines to minimize risk of mercury poisoning.
Whole Melons. Wash hands thoroughly before and after handling any whole melons, such as cantaloupe, watermelon, or honeydew. The surface of the melons should be scrubbed with a produce brush and dried with a clean paper towel before cutting. Melon slices should be consumed or refrigerated promptly.
In addition to the above guidelines, pregnant women and the general public alike should follow general safety precautions while handling food. Rinse and scrub all produce thoroughly with a produce brush and dry with a clean paper towel. Separate meats and produce while preparing food, making sure not to cross-contaminate surfaces and utensils. Food should be stored in refrigerators at temperatures less than 40 degrees farhenheit and freezers less than 0 degrees farhenheit. As always, wash your hands before and after handling food.
Also important, is to be aware of the symptoms of listeriosis and knowing when to contact a healthcare provider immediately. Early symptoms include muscle aches and fever, which may be preceded by gastrointestinal symptoms such as diarrhea. Other symptoms include headache, stiff neck, confusion, and convulsions, but the presentation of the illness can vary greatly. The infection could develop into fatal meningitis, blood infections, or septic shock.
Customers who purchased the food from Whole Foods Market are allowed to bring in receipts for a full refund. Crave Brothers Farmstead Cheese Company can be contacted directly for any question at 920-478-4887, Monday-Friday from 8 am to 5 pm CDT.
Read the full FDA recall here.
Published by Medicaldaily.com