Llamas, Friendship: Certified Animal Therapists Fight Loneliness At Wash. Rehabilitation Center [VIDEO]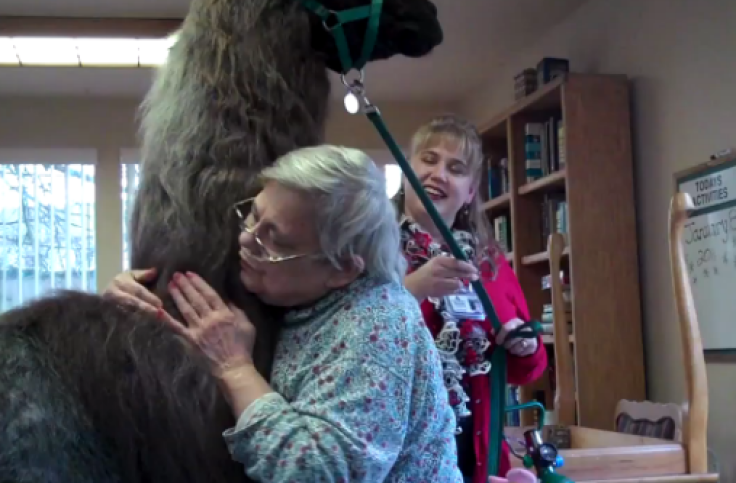 Every few months, Bellingham Health and Rehabilitation Center welcomes three very special guests to its otherwise placid and unremarkable facilities in north Washington. Together with their trainer Niki Kuklenski, the two llamas Marisco and N.H. Flight of the Eagle prance up and down the rehabilitation center's hallways, bringing joy to the elderly patients. In a place where visitors are sparse, the therapeutic triumvirate represents an invaluable break from loneliness.
"It's a treat, watching the llamas walk down the hallway," said resident Jack Houston, speaking to COLORS Magazine. "It's amazing that there's another life out there."
Holly Barto agrees. She remembers the first day the unconventional therapists came to visit. For her, the encounter left an indelible impression.
"I had never met one before," she said. "It was heaven. Just emotionally – to be able to touch an animal and hold an animal close."
Their furry appearance notwithstanding, Marisco and N.H. Flight of the Eagle are real therapists holding certificates from the Delta Society – an non-profit organization working to implement animal assisted therapy in hospices, nursing homes, schools, and other facilities where spells of intense stress are common. The organization also licenses animals and their trainers for therapeutic purposes. As of now, 10,000 certified animal therapists are active at facilities across the nation.
14 are llamas.
The therapeutic capacity is no secret. Its modern application can be traced back almost 40 years, when social worker David Lee began giving gerbils and small birds to inmates at the Lima State Hospital for the Criminally Insane – an unprecedented move credited for reducing fights and suicide attempts. Today, animal therapy is ubiquitous throughout the nation – particularly at universities, where golden retrievers are often deployed to raise spirits during finals.
"It's something different," Barto said. "The animals love you unconditionally. It fills your heart."
Check out COLORS Magazine's video below to see Marisco and N.H. do what they do best.
Colors #83 - Beat your intimacy issues from COLORS Magazine on Vimeo.
Published by Medicaldaily.com