Looking For A Healthy Snack That's Both Fast And Easy To Prepare? Check Out Mind Over Munch's 2-Ingredient Cake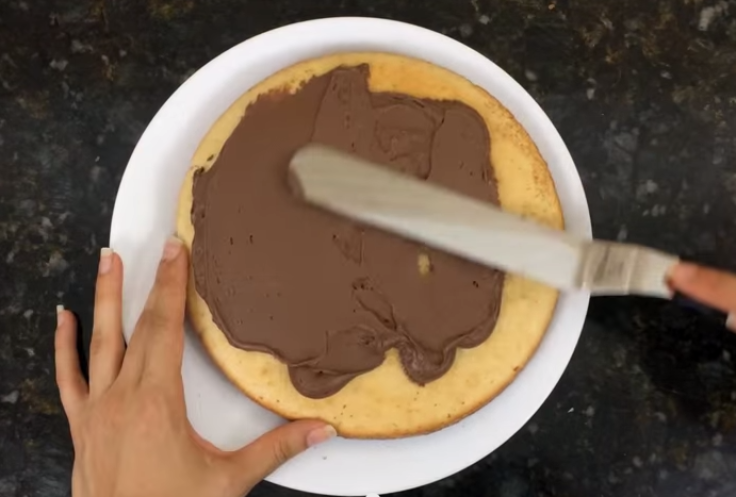 While a zero-calorie, fat-free cake may be straight out of fiction, the Mind over Munch YouTube channel gives us the next best thing. Its easy, healthy cake dessert recipe truly lives up to its name, packing only 3 grams of fat per slice and requiring the use of two simple ingredients. It proves once again that one doesn't necessarily need to cut out sweets to eat healthy.
According to its YouTube expo, Mind over Munch's mission is to "show that living a healthy lifestyle doesn't mean depriving yourself." One of the channel's most recent and possibly most intriguing recipes involves a simple box of cake mix and 12 ounces of carbonated water. Enthusiastic hostess Alyssia explains how the soda can be used in place of oil and eggs to create a cake with 50 less calories and 7 grams less fat in each slice than the traditional preparation method. Simply combine the carbonated soda with the already prepared cake mix, bake at 355 for 10 minutes, and enjoy the cake, which Mind over Munch describes as "perfectly airy and delicious."
Low-calorie and low-fat desserts, such as the soda water cake, are a great way of sticking to your diet. One of the recognized causes of compulsive overeating is restrictive diets, such as those which do not allow any sweets. According to Women Fitness, feeling deprived of the foods you love leads you to crave them even more. When the dieter breaks her restriction, the guilt often leads to binge eating, and no one wants that. So go ahead: Indulge a bit this holiday weekend. Hostess Alyssia also recommends you add optional chocolate icing and flavored water, and after cooking such a healthy and easy cake, it makes perfect sense to treat yourself a little.
Published by Medicaldaily.com