Looking For Online Counseling For Depression And Anxiety? Cerebral Is The Answer
The global pandemic has had a significant effect on our lives. Many of us are still facing challenges that may sometimes be too stressful and overwhelming. While much of the attention surrounding COVID-19 has focused on the physical threat of the virus, we must also be concerned about the rise of mental health-related problems during the lockdown. Job loss, social isolation, negative news and losing loved ones have all contributed to anxiety and depression.
Due to the pandemic, there's also been an increased availability and acceptance of online counseling. One such online platform focused on online counseling for mental health is Cerebral, which aims to be the model for the future of mental healthcare.
Online counseling for depression and anxiety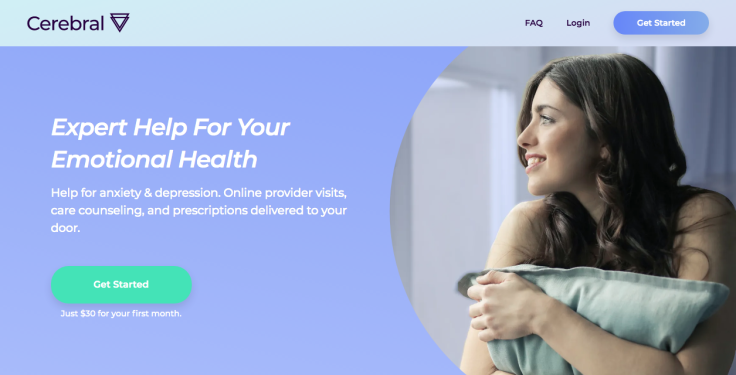 If you're one of the millions of Americans dealing with mental health issues, the first thing you need to understand is that you're not alone. Seeking help requires strength and courage and not everyone has access to a licensed mental health counselor where they live.
This is what Cerebral tries to address. Also known as Get Cerebral and founded in 2019, Cerebral is a mental health tool providing medication management and online counseling services.
How does it work?
Cerebral is a subscription-based service offering three plans that provide behavioral support, traditional therapy and clinical care to its patients. Signing up is quick and easy and you'll be asked to take a short emotional assessment to gauge which plan will work best for you. This is usually done by speaking with a professional on video call or phone.
From there, you'll be matched with a care counselor or therapist, depending on your selected plan. If you're prescribed medication, it'll be delivered monthly.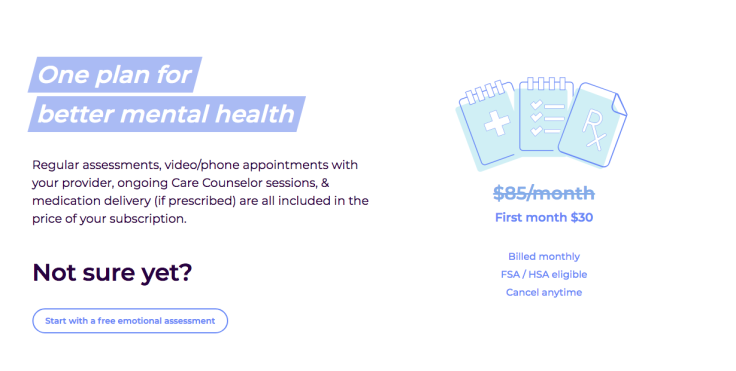 All this works via Cerebral's collaborative platform, where a medical provider prescribes needed medication while a care counselor offers emotional support and tracks the patient's progress. The digital platform enables you to track your progress and see how you're improving under the treatment.
Cerebral membership plans
Currently, the platform offers three fairly-priced plans, which includes:
Medical and Care Counseling Plan ($30 for the first month, $99 per month after)
Evaluation, diagnosis and prescription
Monthly delivery of medication
Monthly video meetings with a care counselor
Medical professional access for questions
Regular progress tracking by prescribing provider and counselor
Therapy Plan ($99 for the first month, $259 per month after)
This subscription tier gives you weekly sessions with a licensed therapist. However, this doesn't include access to a psychiatrist. It also doesn't have monthly medication deliveries. Compared with other providers, this tier is competitively priced.
Medication and Therapy Plan ($139 for the first month, $325 per month after)
Everything you get with the "Medical and Care Counseling Plan".
You can choose from a list of the best-licensed therapists and request another one. You'll meet with these therapists weekly for therapy sessions.
Your licensed therapist will take the place of a care counselor and they will work with your prescribing provider on your treatment plan and medication.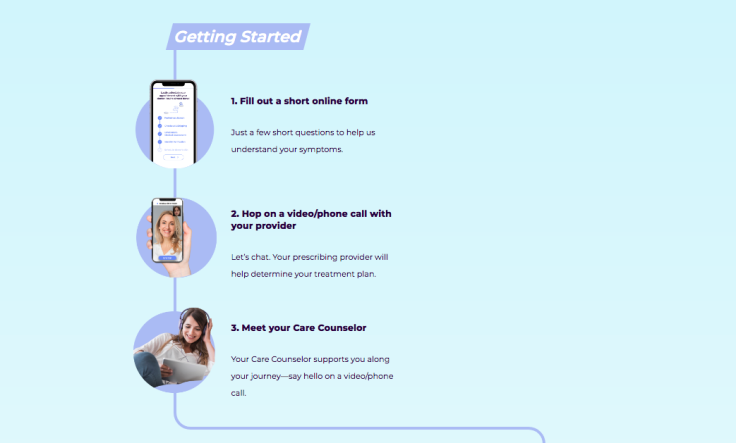 As for medication, Cerebral prescribes the generic version of any treatment, which lets the platform offer a low price for your subscription. If your provider feels it's appropriate to do so, they can also prescribe additional, as-needed medication.
Signing up for Cerebral is also a month-to-month commitment that lets you cancel anytime you're not satisfied. It's important to remember though that long-term plans are generally most effective for this kind of treatment.
What sets Cerebral apart from the others?
As a company, Cerebral is led by mental health professionals with sufficient experience in the industry. The company also handpicks their team of board-certified psychiatrists, physician assistants, physicians and nurse practitioners. All of Cerebral's care counselors are also trained in therapeutic techniques like motivational interviewing, behavioral activation, behavioral health techniques and healthy coping mechanisms.
Aside from the reasonable pricing, Cerebral's apparent advantage is that they are an online mental health counseling service. This enables the company to be more accessible and affordable, which are two factors that people who need help will be glad to hear about.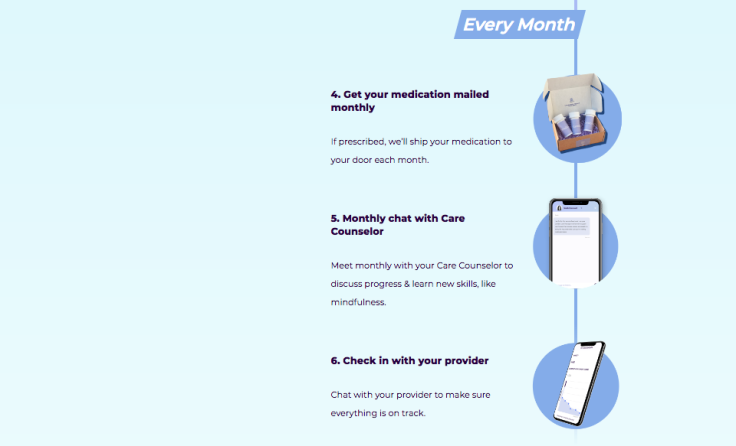 There's even research that supports online counseling for depression and other mental health concerns, saying that it yields the same results as face-to-face therapy. This is good news for anyone struggling to enter in a room with a therapist. The company also has a 4.87-star rating on Reviews.io and positive reviews from other websites.
Insurance and out-of-network assistance
One other benefit that Cerebral has is that they work with some of the major health insurance companies. Customers who use an in-network insurance carrier will only have to pay only $29 per month for the service of all their plans, along with the cost of medication and copay per visit. These plans are also HSA and FSA eligible.
If Cerebral doesn't accept your insurance provider, it doesn't automatically mean that you're stuck paying full price. Thanks to Cerebral's Automated Money Back program, customers can get reimbursements of 30% to 60% of the subscription cost. If you let Cerebral know your insurance details, the company will also submit your claims.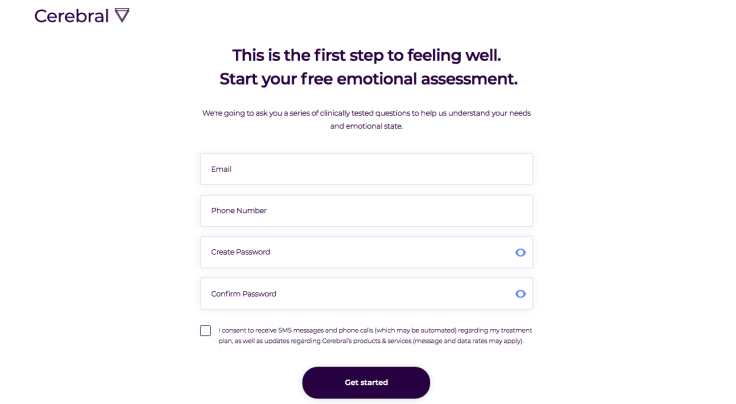 Takeaway
Thanks to telehealth companies like Cerebral, mental health care is now much more accessible and affordable. While traditional counseling is still well favored, the fact that therapy is now possible from the comfort of your own home is a godsend for many.
If you're a person suffering from anxiety or depression and have decided to seek professional help, then know that by deciding, you've already taken a huge step. Companies like Cerebral can help you stay on the right track, offering an all-in-one approach at a low cost.
If you're ready, you may sign-up and get your free assessment from Cerebral by clicking here.