Lose Weight With Pinterest: 4 Ways Social Media Is Helping People Shed The Pounds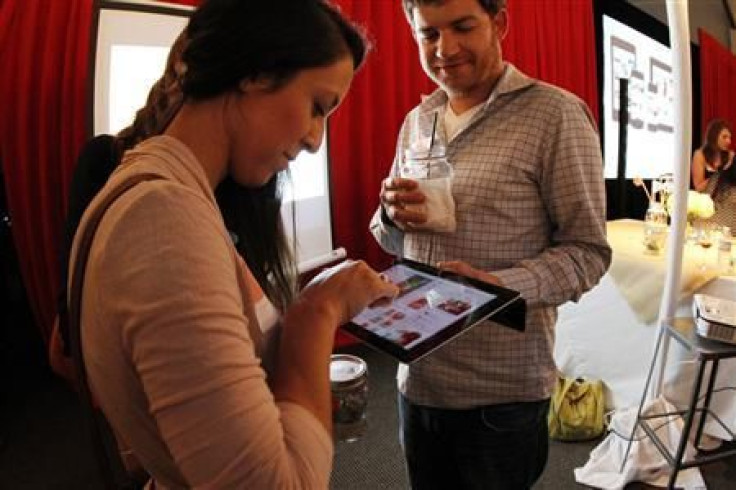 Nutritionist Mitzi Dulan wants you to know that losing weight can be fun and easy with a little help from the popular social media website Pinterest. In her new book, The Pinterest Diet: How to Pin Your Way Thin, Mitzi explains 12 rules that combine healthy recipes, exercise plans, and inspiration to change the way we lose weight.
Dulan is the current team nutritionist for the Kansas City Royals, and has also co-authored a book — titled The All-Pro Diet — with NFL Pro Bowler Tony Gonzalez. Her new book, released earlier this month, promises to be a simple and cost-effective tool that makes achieving your weight loss goal as user-friendly as possible.
"The Pinterest Diet recipes focus on simplicity and delicious flavor," Dualn told U.S. News & World Report. "The recipes are also quick and easy enough for even the most inexperienced cook to tackle."
Pinterest is a photo and content sharing website that allows users to arrange images that represent their interests and hobbies into a pinboard-style format. Dulan recommends creating five "Life Transformation Boards" that include foods high in fiber, protein and healthy fat, workout plans, inspirational quotes, health articles, and favorite products.
For more information on the Pinterest diet, pick up your copy of Dulan's book at Amazon.com or Barnes & Noble. In the meantime, here are four more ways social media can help you reach your weight loss goal:
Twitter can track your daily eating habits: A study out of the University of Arizona asked 50 adults to track what they ate throughout the day by using 24 pre-made hashtags such as "#dairy" or "#protein." Researchers analyzed 773 tweets to decide what causes our mindless snacking throughout the day.

"This helps us understand what is driving eating behavior, and that's important from a healthy eating program standpoint," said lead author Dr. Melanie Hingle. "If I am going to develop a program to promote healthy eating to people, I want to know what motivates them to engage in their current eating behavior so I can tailor that program appropriately."
Instagram can help you avoid food high in calories and fat: A research team out of Brigham Young University (BYU) recently concluded a study that determined the effect that taking a picture of our food and posting it to a social website can have on our appetite. Findings revealed that the more pictures we take of food, the less appetizing it will appear to us.

"In a way, you're becoming tired of that taste without even eating the food," explained study author and BYU's Marriott School of Management professor Ryan Elder. "It's sensory boredom — you've kind of moved on. You don't want that taste experience anymore."
There are social media websites tailored to weight loss: There a couple of social media websites out there that are specific to achieving your weight loss goal. Weight Loss Buddy is a free social media site that surrounds you with a network of support for dieting and exercise. WeightView.com allows users to see what they could look like without 20 or 30 extra pounds through a computer-generated photo.
Facebook can identify the healthiest states in the country: Harvard Medical School researchers used Facebook to track the healthy and obese regions of the United States. Facebook statuses were cross-referenced with obesity data from the Centers for Disease Control and Prevention to decide where people were practicing healthy and unhealthy daily eating habits.

"Activity-related interests across the USA and sedentary-related interests across NYC were significantly associated with obesity prevalence," the research team explained. "Higher proportion of the population with activity-related interests on Facebook was associated with a significant 12%...lower predicted prevalence of obese and/or overweight people across USA metros and 7.2%...across NYC neighborhoods."
Published by Medicaldaily.com