Lower Your Blood Pressure By Keeping An Eye On It: Self-Monitoring Linked To Reduced Hypertension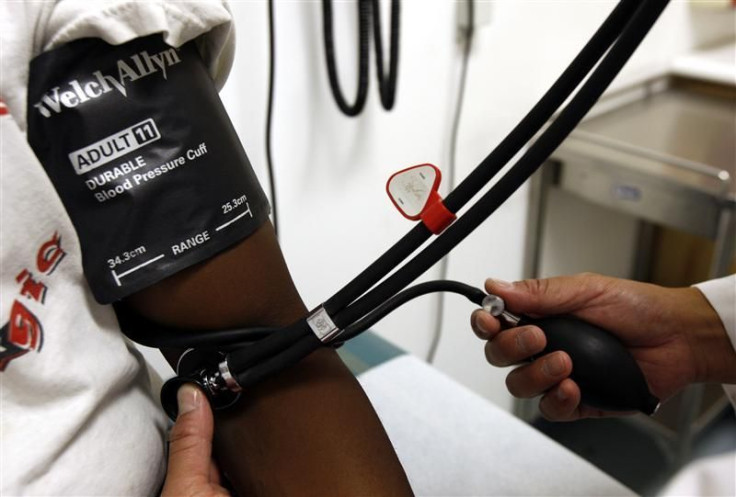 People suffering from hypertension who regulary monitor their own numbers tend to have lower blood pressure than those who don't, according to a recent review of existing research. Reuters reports that self-monitoring, along with online resources and regular phone calls from health workers, can be of tremendous benefit for individuals suffering from hypertension.
Hayden Bosworth, a researcher who has studied hypertension at Duke University and the Durham Veterans Affairs Medical Center in North Carolina, said that self-monitoring helps individuals with high blood pressure by rendering everyday effects of living and eating more fluid and dynamic.
"Self-monitoring allows individuals to take more ownership of their own healthcare and track themselves how they're doing," he explained. "If you eat five ham biscuits for breakfast ... you can see the implications of that through your blood pressure in monitoring that relatively quickly, as well as if you exercise."
In other words, self-monitoring helps people with hypertension visualize and better appreciate their own progress.
"It's no different than tracking your own weight. You need to know, on a daily basis, how you're doing, what sets it off and are you going too high or too low," he added.
Systolic And Diastolic Blood Pressure Reduced By Self-Monitoring
The systematic review, which was conducted by a team of researchers led by Dr. Katrin Uhlig of Tufts Medical Center in Boston, examined 52 studies that tracked people who monitored their own blood pressure as well as people receiving traditional care. They found that self-monitoring, if paired with additional support from healthcare providers, corresponded to a 3.4 to 8.9 mm Hg reduction in systolic blood pressure compared to traditional care, as well as a 1.9 to 4.4 mmHg reduction in diastolic blood pressure.
"The reality is, for most people if they're taught how to do it adequately, they don't need to come in to have it done in the doctor's office," said Bosworth, noting that a typical blood pressure cuff costs about $40.
According to the Center for Disease Control and Prevention (CDC), about one in three U.S. adult suffers from high blood pressure. Any value above 140/90 mm Hg is considered high, and may increase the risk of developing heart disease and stroke. To learn more about hypertension and how to prevent it, consult the National Institutes of Health (NIH) guide to lowering blood pressure.
Source: Katrin Uhlig, Kamal Patel, Stanley Ip, Georgios D. Kitsios, Ethan M. Balk; Self-Measured Blood Pressure Monitoring in the Management of HypertensionA Systematic Review and Meta-analysis. Annals of Internal Medicine. 2013.
Published by Medicaldaily.com