Madonna's "Psychotic" Stalker Who Threatened To "Slice Her Throat" Escapes Psych Ward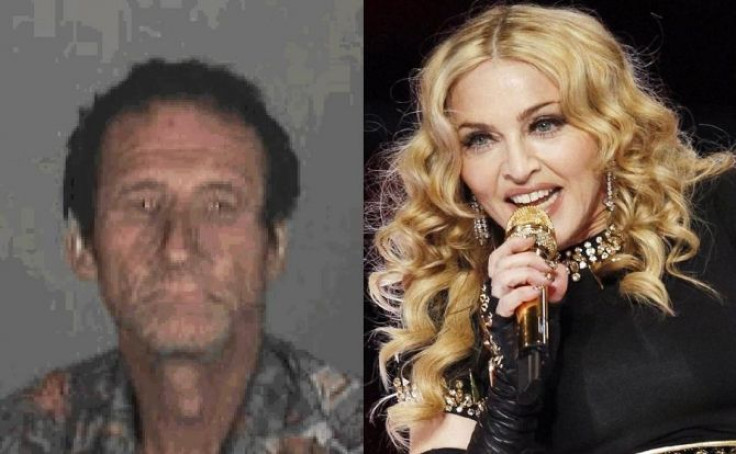 Police are searching for Madonna's "psychotic" stalker, convicted for going to the 53-year-old singer's Hollywood Hills home and threatening to slit her throat in 1996, escaped from a psychiatric hospital a week ago and is still at large, the Los Angeles Police Department said on Thursday.
Robert Dewey Hoskins "is a very psychotic man when not taking his medication and has very violent tendencies," the Los Angeles Police Department said in a statement.
The 54-year-old man had allegedly walked away from Astascadero State Hospital undetected Feb.3, according to authorities, while Madonna was at the time preparing for her Super Bowl halftime show in Indianapolis.
Hoskins had been shot in the leg by a member of the Material Girl's security staff when he tried to break into her home, he was sentenced to 10 years behind bars.
Madonna had testified during Hoskins' trial and said that she had nightmares about the homeless man from Oregon after seeing him near her home in 1995. The singer said that her bodyguard had told her that Hoskins claimed that she was supposed to be his wife, and "if he couldn't have me, he was going to slice my throat from ear to ear."
Later that year, Hoskins also scaled the perimeter wall at Madonna's home in Florida, jumped into her pool and was later shot twice by a security guard.
Hoskins had continued to threaten Madonna from behind bars, prosecutors told the Daily News in 2000, and after he was released he was transferred to a hospital where he was determined to be "mentally disturbed," police said in a statement. Hoskins was later released but arrested again in 2011 and ordered to another mental institution in Norwalk, California.
Police said they have searched places where Hoskins may try to go like the city of Long Beach, just south of Los Angeles.
Authorities have informed Madonna that Hoskins in on the loose.
According to TMZ, the mental patient also threatened to slit Halle Berry's throat, which was why in her custody war with her ex-partner Gabriel Aubry she asked the judge for permission to move to France with their daughter because she feared for her life and the life of her child.
Published by Medicaldaily.com