Magic Bullet For Sleep? 'Sprayable Sleep' Uses Melatonin To Help You Knock Out Via Transdermal Delivery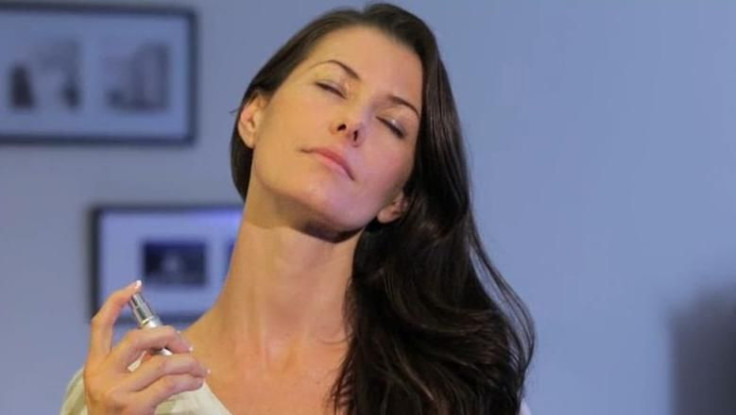 The tossing and turning, getting in and out of bed, and staring up at the ceiling for the rest of the night could only mean one thing: no sleep. Fortunately, the difference between staying up all night and a good night's sleep could lie within two spritz of Sprayable's melatonin skin spray. "Sprayable Sleep," developed by the Silicon Valley start-up, is the world's first topical melatonin spray that helps you fall asleep naturally and wake up refreshed — without the melatonin-induced groggy feeling.
Each bottle of Sprayable Sleep contains 60 sprays, equivalent to 30 uses or a month's supply with regular use, according to prayable Sleep's IndieGoGo page. The spray consists of three ingredients mixed together, including melatonin, tyrosine, and distilled water. Sprayable Sleep works by you spritzing it twice on your neck about an hour before you're ready to sleep. However, spraying frequency can be adjusted based on how many sprays it takes to fall into a slumber.
Unlike melatonin pills, the sleep spray makes melatonin molecules by encapsulating them. Swallowing melatonin pills leads to losing the benefits of the hormone to the digestive process. Meanwhile, the spray contains a transdermal delivery of melatonin, so "you can much better control the dose, and the amount is much closer to the body's natural production level," Ben Yu, Sprayable's founder and developer of Sprayable's Sleep, told Bloomberg Businessweek.
Taking a typical dose of melatonin pills — between 1 to 3 milligrams — may elevate your blood melatonin levels to one to 20 times normal, says the National Sleep Foundation. Knowing this, Yu and his father Chongxi Yu, who holds a Ph.D. in bioorganic chemistry from Rutgers University, aim to get the spray to contain a smaller dose of melatonin. It contains 30 times less than the typical dose, meaning it is gentler on the body and will give you a more natural feeling sleep.
With more than 70 million Americans suffering from sleep problems, according to the Centers for Disease Control and Prevention, this sleep aid could help alleviate common problems. So far, it seems the solution to a good night's sleep is closer, as Yu's popular idea has surpassed its $15,000 goal by 704 percent in just a week with still 34 days left to go.
"This is just incredible. We can't believe all the support we're getting. We are truly floored by all the support, kind words, and backers," Yu said.
While Sprayable Sleep could be an aid for restless nights, the effects of its long-term use remain unknown. The American Cancer Society has pointed to some reports that indicate that melatonin may interact with blood-thinning medicines and with medications for seizures or diabetes. Therefore, it's best to talk with your doctor before taking melatonin, especially if you have these conditions.
In general, it's best to try to live your life without a dependency on these things and try to make adjustments to your sleep routine. However, for those times when sufficient sleep is not possible or you're jet lagged, it could be the ideal go-to sleep solution. Spraying yourself to sleep may not be such a bad thing — on occasion.
Sprayable Sleep is currently in development but is expected to be available as a prototype in February 2015 for backers who donate $85 by March 1.
Published by Medicaldaily.com