Majority Of US Deaths Linked To Diet Of Too Much Bacon And Soda, Too Few Nuts; 10 Nutrients To Keep In Mind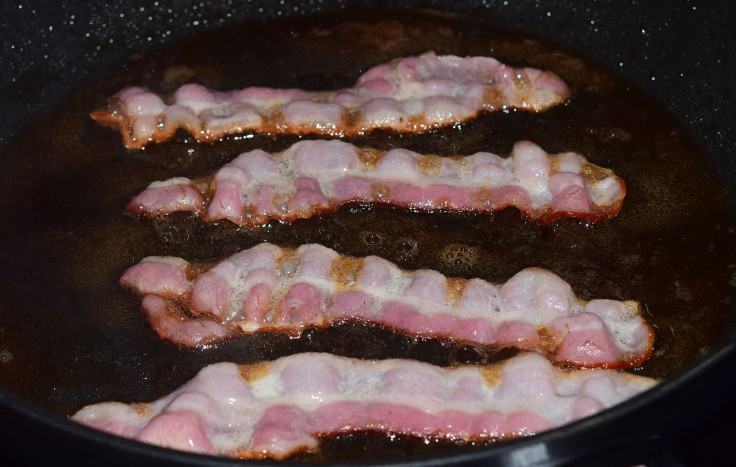 Consuming too many processed meats, too much salt, and not enough nuts is a common habit among those who die from heart disease, stroke, and diabetes, according to new research published in the journal JAMA. In fact, a majority of U.S. deaths can be linked to a diet that includes too much bacon and soda, and too few nuts.
Researchers looked at 10 foods and nutrients to better understand their association with death due to those conditions. They studied Americans' consumption of fruits, vegetables, nuts/seeds, whole grains, unprocessed red meats, processed red meats, sugar-sweetened beverages, polyunsaturated fats, seafood omega-3 fats, and sodium.
Read: Experts Say US Dietary Guidelines May Be A Danger To Millions Of Americans' Health
Their study found Americans who died from heart disease, stroke, and diabetes are eating a diet that includes too much salt, processed meats, and sugary beverages, while not eating enough nuts, seeds, seafood omega-3 fats, fruits, and vegetables.
"It may sound like a familiar attack on the typical American diet, and the research echoes previous studies on the benefits of heart-healthy eating, but the study goes into more detail on specific foods and their risks or benefits," lead study author Renata Micha told The Associated Press.
The biggest culprit was salt, which was linked with nearly 10 percent of deaths. But, eating too few nuts, seeds, and seafood was not far behind and was linked with about 8 percent of deaths.
Processed meats include bacon, sausages, hot dogs, salami, corned beef, beef jerky, and ham. All of these foods have been modified by smoking, curing, or adding salt or preservatives to either enhance flavor or extend shelf-life.
Their research included government data documenting over 700,000 U.S. deaths due to heart disease, stroke, and diabetes, and data from a national health and nutrition survey that asked about Americans' eating habits.
These findings are intended to help guide public health planning and inform healthy dietary habits to improve health, the authors conclude in their paper.
See also: More Than Half Of All Calories In American Diet Come From Ultra-Processed Foods; So, What Are They?
Healthy Eating Experts Weigh In On Social Media Nutrition Trends: Registered Dietitian Nutritionists Discuss Latest Fads
Published by Medicaldaily.com