Man With 100-Pound Scrotum Hopes To Have It Removed Surgically; Raises Money Online To Fund Operation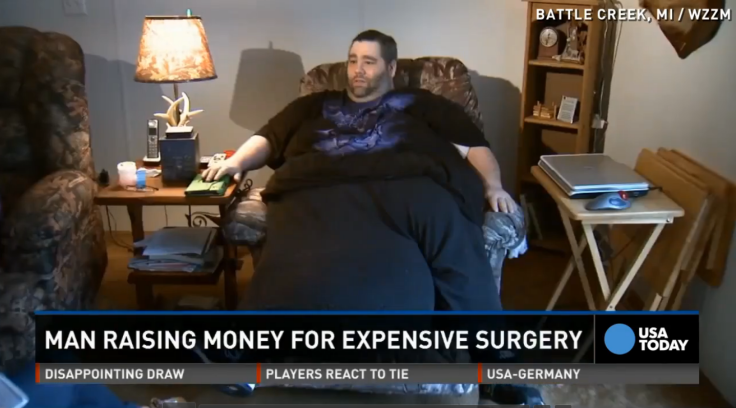 Only a few months after the death of Wesley Warren Jr., the man famous for his struggle with a 132-pound scrotum, a new case has emerged: 39-year-old Dan Maurer has lived with a 100-pound scrotum for years and has recently discovered the cause of his condition. He hopes to raise money for corrective surgery to improve his quality of life and relationship with his wife, Mindy.
Maurer began noticing something odd in his late twenties, when his scrotum — the area of skin and muscle containing the testicles — began swelling to the size of a melon. When he initially went to the doctor, he was told to lose weight. "So, I was doing 2 miles a day in the pool, so I lost 50 pounds like that," he told USA Today. "As far as they were concerned, I had to have lap-band surgery to lose weight."
But it turns out that Maurer had been misdiagnosed all along. Despite losing weight, his scrotum continued to grow. In reality, he had scrotal lymphedema, a condition that causes lymph fluid and tissue buildup in that area. It wasn't until Maurer saw a TLC show called "The Man with the 132-Pound Scrotum," which followed the trials and tribulations of 49-year-old Wesley Warren Jr., who likewise suffered from scrotal lymphedema, that Maurer realized there might be hope for him.
Certain scrotum disorders are caused by hernias or fluid accumulation between the testicles and skin, but scrotal lymphedema is far more debilitating. Patients with scrotal lymphedema are often overweight or obese, which can cause complications for surgery; however, the size of their scrotum hinders them from exercising properly, or even simply walking. "[A]lthough there are many benefits to weight loss, and morbid obesity can be associated with a higher risk of certain complications from surgery, the reality is that patients with [scrotal lymphedema] cannot effectively lose weight when disabled with this mass to the point of not being able to effectively walk," the Center for Reconstructive Urology writes on its website. "Moreover, it does not appear that weight loss can lead to the resolution of this problem."
Maurer says he's looking for a way to undergo surgery mostly to preserve his relationship with his wife. "I don't want to lose her," he told USA Today. "She's amazing. I don't see myself as being worth it, but she is. That's why I'm going through this."
A certain doctor in California had agreed to perform the surgery on him, which will be expensive and dangerous — Maurer is hoping to raise $20,000 for it by turning to the online community. You can donate by going to his page on GoFundMe.
Published by Medicaldaily.com