Man On Fire: Chinese 'Fire Therapy' Sets Patients Up In Flames To Cure Chronic Illness, But Is It Safe?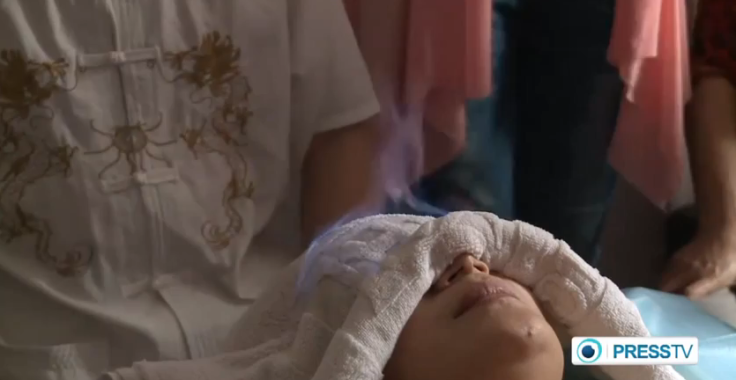 When it comes to chronic illnesses like Crohn's disease, diabetes, and cancer, there is a burning desire to find a cure to these diseases. A Chinese doctor in Beijing claims fire therapy can treat any chronic ailment without expensive medical procedures or health insurance. Zhang Fenghao, one of China's most prominent fire therapists, sets his patients on fire with herbal paste, an alcohol-soaked towel, and a cigarette lighter to wipe out illness.
"Fire therapy is the fourth revolution in human history... it surpasses both Chinese and Western medicine," said Fenghao, the NY Daily News reported. The practice is based on Chinese folk beliefs that our health depends on maintaining a balance of "hot" and "cold" elements within the body. The fire therapist trains students in a dingy apartment in Beijing and charges 300 yuan ($48) per hour for treatment, which starts by setting a fire on top of the body.
In a PressTV interview, Fenghao's patient, Zhao Jing, 49, who suffers from chronic back pain, confessed she was first shocked by the idea of the treatment. However, she added: "After learning everything, I don't have fears anymore." Fenghao claims to have lit blazes on not just everyday citizens, but also foreign diplomats and senior Chinese officials.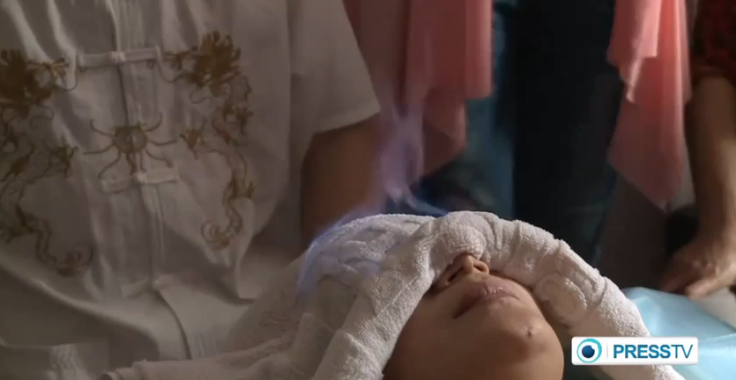 Although fire therapy is a common alternative therapy in China, the hot trend resurfaced on social media after photos of a man having fire applied to his crotch went viral on China's Twitter-like Sina Weibo. Weibo users quickly took to the site to express their bewilderment, making jokes such as, "Sir, how well would you like your meat cooked?" There is no word whether the patient experienced injuries after the photo.
Fire therapists are expected to follow safety protocols such as: "First, the fire must occur at the correct acupuncture point to be effective; secondly, there must be a wet towel held by an attendant right next to the open fire; third, contact must be maintained with the client at all times; and finally, the fire must be extinguished immediately if the patient believes it's too hot," according to The Nanfang. Fenghao has heard of patients suffer burns on their faces and bodies because of a lack of standards. However, the fire therapist reassures, he and his students have never seen an accident.
Despite its touted health benefits, the fire therapy has not received any certification from medical journals. There is no orthodox medical evidence that it is effective. Fenghao has received some recognition from publications that cover "traditional Chinese medicine," which is widely available for consumption in China's hospitals. Traditional Chinese medicine is still lucrative producing goods worth 516 billion yuan ($84 billion) in 2012.
Fire therapy is not only seen in China, but also in countries, such as New Zealand. The Chinerchi Clinic in Auckland uses the hot therapy to treat patients with chronic pain conditions, functional disorders, or a variety of stress related illnesses. "[F]ire dragon therapy on abdominal as life center can be important to maintain youthful energy, flatten tummy and reduce wrinkles," according to the clinic's website. It can also be a less expensive alternative for those without health insurance.
"Medicine needs a revolution. Fire therapy for the world is the solution," Fenghao said.
Published by Medicaldaily.com