Mandatory Flu Vaccine Policy Results In 99% Compliance In Detroit; Keeps Health Workers, Patients Safe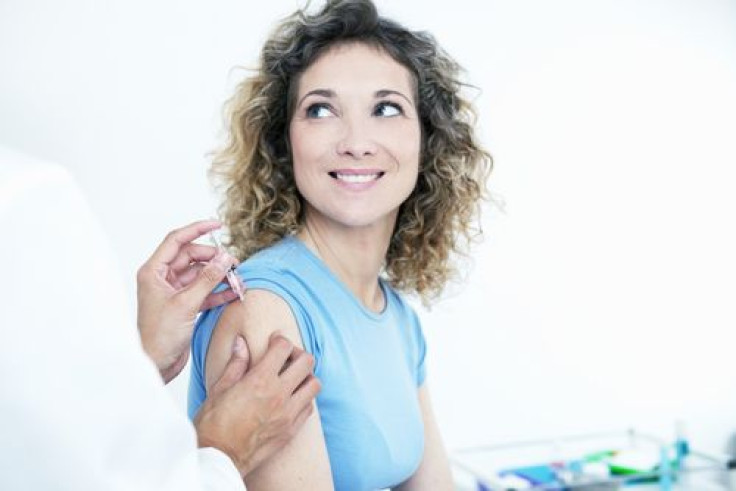 The best way for hospitals to improve flu vaccination rates among health care workers is to make getting one mandatory, according to a new study from the Detroit-based Henry Ford Health System.
Two years after implementing the mandatory policy, Henry Ford researchers found that 99 percent of employees received the annual flu vaccines. Their study is being presented Saturday at the 54th Interscience Conference on Antimicrobial Agents and Chemotherapy in Washington D.C.
The Centers for Disease Control and Prevention (CDC) encourages employers to make flu vaccinations mandatory in the workplace. This recommendation comes after it found that compliance among organizations with a mandatory vaccination policy was as high as 88.8 percent compared to 44.3 percent in organizations that did not. Nationally, between 2013 and 2014, flu vaccination coverage among health care workers was 62.9 percent.
Co-author of the study Allison Weinmann said in a press release that vaccination rates rose only after the mandatory policy went into effect between 2012 and 2013. Ongoing education about the benefits of being vaccinated, and easy, free access to the vaccins also contributed to improvements. Although the policy wasn't met with much enthusiasm from the employees, Weinmann said that the organization still followed through with it since it was the best way to ensure health and safety in the workplace.
Between 2005 and 2010, when the mandatory vaccination policy had not yet begun, Henry Ford had vaccination rates between only 41 and 55 percent. Then, between 2010 and 2011, the organization shifted its policy to require annual vaccination among employees who worked in patient care areas. Employees could opt out of vaccinations if they agreed to wear masks when they worked in these areas. Meanwhile, employees working in non-patient care areas were encouraged but not mandated to get vaccinated. With these policies in place, the health system saw rates increase to 84 and 87 percent between 2010 and 2012. Then, from 2012 to 2013, the policy changed again, requiring everyone to get vaccinated, pushing rates up to 99 percent.
Employees who did not wish to be vaccinated due to medical or religious reasons had to complete a declination form signed by their doctor or religious leader. These, combined with employees who chose to leave their jobs in lieu of vaccinations, comprised less than one percent of the health system's workforce, which has 23,000 employees.
"Our success is attributed to three factors: Our commitment to patient and employee safety, aggressive employee communication and education and making sure we have enough vaccine to accommodate everyone," Dr. Weinmann said in the release. "We couldn't have made the strides we did without all three working together. A big hurdle was addressing the myths associated with the vaccine itself and reassuring employees this was all safety driven."
More than 9,600 people required hospitalization for flu-related complications between 2013 and 2014. Flu is most prevalent during the fall or winter months, and the best way to prevent it is an annual vaccination, which can be taken by anyone over six months of age.
Source: Weinmann A, et al. At The 54th Interscience Conference on Antimicrobial Agents and Chemotherapy. 2014.
Published by Medicaldaily.com