Man's Best Friend May Boost Immune System: 6 Health Benefits Of Owning A Dog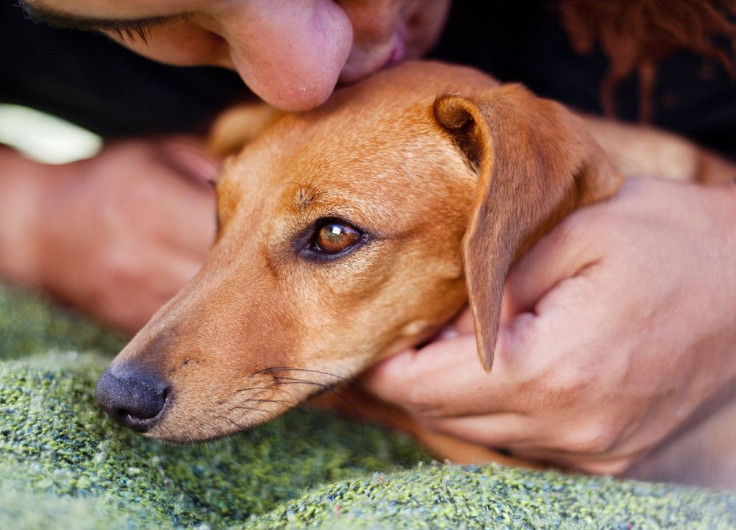 The decision to get a pet usually stems from a desire to have a companion at home. Spending quality time with pets, specifically dogs, provides more than just companionship, however. These furry friends can give you a clean bill of health. Most dog owners believe their beloved four-legged canines make their lives better, and according to science, there are many ways they can indeed increase your longevity.
In the U.S., an estimated 70 to 80 million dogs and 74 to 96 million cats are owned, according to The American Society for the Prevention of Cruelty to Animals (ASPCA). Moreover, up to 47 percent of all households in the U.S. have a dog compared to the 37 percent who have a cat. A reason for this discrepancy may lie in dogs' successful mastery of the human-animal bond relationship. Dogs are shown to be apt in reading humans' patterns of social behavior, especially related to food and care.
A 2012 study published in the journal Current Biology found dogs are able to read humans' "communicative intent" or the intention to interact with them via face. This suggests dogs, like human infants, are sensitive to social cues that signal communicative intent. Dogs tend to speak through body language and facial expression, which makes them better equipped to figure out our moods and what makes us happy, among other things.
Dr. Gail Gross, an expert on relationships, family development, education, and behavior in Houston, Texas, finds there are benefits in having pets in the home. "Today, many families love their pets and consider their pets to be members of their own families. Whether you choose a cat, a dog, a horse, or a rabbit, the benefits to raising children in a home with pets are great," she told Medical Daily in an email. "Pets give unconditional love. They are non-judgmental, and, especially for only children, lonely children, or children who have sibling rivalry or emotional distress, a pet gives them someone to talk to."
Dogs have ingratiated themselves in society in ways that not only benefits them, but also their owners. They're an exchange between affection and attention for food and shelter. Moreover, dogs are truly a man's best friend, providing an array of health benefits, from increasing physical activity levels to sniffing out cancer.
1. Greater Physical Activity
Dogs are more likely than other house pets to beg for a walk or a game outside. This encourages owners to frequently take a walk or exercise with their dogs. A 2006 study published in the American Journal of Preventative Medicine found dog owners were more likely to do mild to moderate physical activity during the week than non-dog owners. These owners walked an average of 300 minutes per week compared to their counterpart's average of 168 minutes per week. This means dog owners are more likely to get the recommended 30-minute minimum of exercise a day.
2. Decreases Allergy Risk
Dogs may be a trigger for people with allergies, but they can the lessen allergy risk for kids growing up with them. The effect is so strong that even pregnant women who live with a dog can still reduce the likelihood of their child developing allergies. A 2004 study published in The Journal of Allergy and Clinical Immunology found exposure to dogs in infancy, especially around the time of birth, can actually influence children's immune development while reducing the probability of certain allergic diseases. Children who had a dog at home as newborns were much less likely to have atopic dermatitis and wheezing by their third birthday compared to non-dog owners.
3. Detects Low Blood Sugar Levels
People with diabetes may not always be able to tell when their blood sugar level is too high or too low. Trained dogs have been proven to provide help with hypoglycemia monitoring. A 2013 study published in PLOS ONE found dogs trained by Medical Detection Dogs — a UK charity that works with researchers and universities to warn owners when their blood sugar levels are out of range — were able to notify the owners with "significant accuracy" during times of both low and high blood sugar. This led to fewer paramedic calls, fewer unconscious episodes, and improved independence. Although dogs are able to respond to their owners' blood sugar levels, it is not entirely clear how they do this, but odor cues are suspected to help.
4. Lowers Stress Levels At Work
Dogs not only provide comfort at home; they also can do wonders in the workplace. Bringing your dog to work may actually be productive. A 2012 study published in the International Journal of Workplace Health Management found dogs in the workplace may help buffer work stress and make the job more satisfying compared to non-dog owners. Perceived stress was similar at the beginning of the study, but throughout the course of the day, stress declined for the dog group when their dogs were present. Dogs encourage taking more breaks and leaving owners energized for when they return back to work.
5. Curbs Depression
People who have a pet to take care of are less likely to suffer a depression episode. A 2006 study from the University of Portsmouth found walking the dog daily can ward off depression and loneliness. The dog walkers surveyed reported that the exercise gave them a better sense of well-being as they met people along their strolls and felt instantly happier. The participants also reported when they were feeling low, they always felt better once they took a walk with their dog outside.
6. Sniffs Out Cancer
Dogs' sense of smell is so strong that they are able to detect cancer in as little as three hours. There's plenty of anecdotal evidence that has later been supported by scientific studies. A recent study presented at the Endocrine Society's 97th annual meeting in San Diego, Calif., found a trained scent dog accurately identified whether patients' urine samples had thyroid cancer or were benign 88 percent of the time. The scent-trained, rescued male German Shepherd-mix named Frankie recognized the smell of cancer in thyroid tissue obtained from multiple patients. "Frankie is the first dog trained to differentiate benign thyroid disease from thyroid cancer by smelling a person's urine," said Arny Ferrando from the University of Arkansas for Medical Sciences (UAMS) in Little Rock, in the press release.
Dogs and pets overall can help you get a clean bill of health.
Published by Medicaldaily.com