Many Americans Missing Out On Cancer Screening, Especially Those Who Need Them Most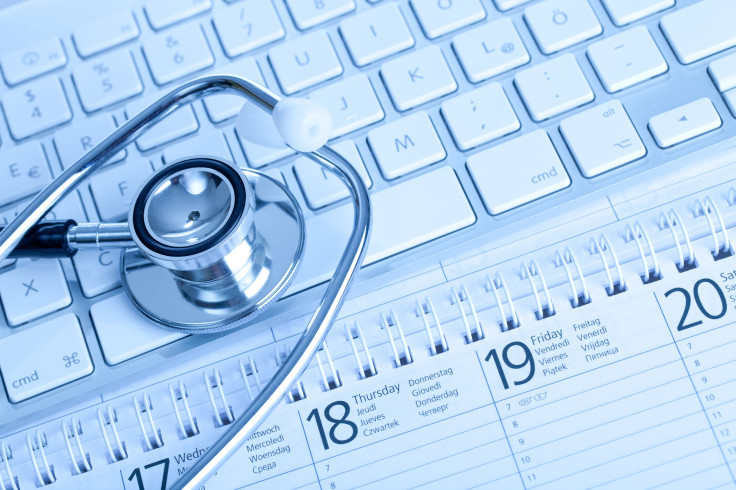 For those of us with proper nerve endings and a sense of modesty, the prospect of a cancer screening is none too joyful. The poking, the prodding, the squeezing — all with various levels of awkwardness. Yet at the end of the day, these preventive measures remain our most cost-effective and agony-saving method of finding and stopping cancer in its most treatable stages.
That reality makes this recent report from the Centers for Disease Control and Prevention (CDC) all the more disheartening. It found that Americans, by and large, aren't receiving as many cancer screenings as they should, and worse still, that it's those often hardest hit by cancer, the poor and uninsured, who are lagging behind the most.
The authors examined self-reported responses from the 2013 National Health Interview Survey (NHIS). They specifically tried to determine the rate of breast, colorectal, and cervical cancer screenings their participants recently underwent. Ultimately, they found that these rates have remained stagnant over the past three years, falling short of recommended levels of screening use as determined by U.S. Preventive Services Task Force (USPSTF) guidelines. Cervical cancer screening use had even actually declined from 2010 to 2013.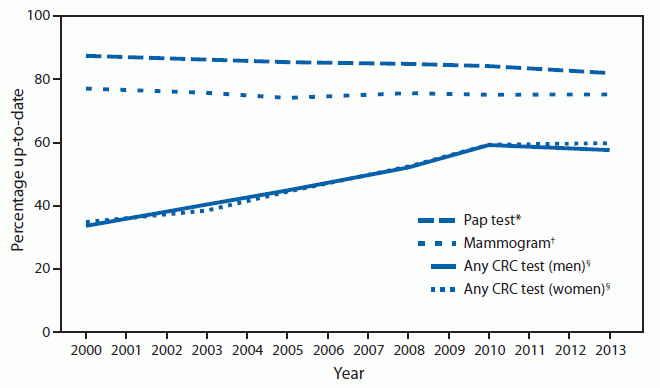 Current USPSTF recommendations are a mammography every two years among women between the ages of 50 to 74, a Pap test every three years for women between the ages of 21 to 65 without hysterectomy, and screenings for colorectal cancer using fecal occult blood testing (FOBT) every year, sigmoidoscopy every five years with FOBT every three years, and colonoscopy every 10 years in adults between ages 50 to 75.
Their results did not bode particularly well in comparison to the target goals set by Healthy People 2020, a national disease prevention initiative. "In 2013, after adjusting for age, 72.6 percent of women aged 50 to 74 years reported recent mammography, below the Healthy People 2020 target of 81.1 percent," the authors wrote. Similarly, the current 80 percent rate of pap smear screenings was a sharp cry away from the 93 percent target goal, as was the 58 percent rate of recent colorectal screenings from the target 70 percent rate.
These levels of screening use were especially paltry among the uninsured, with more than half of uninsured women not having received a recent mammography, and nearly 80 percent of those uninsured not having recently received a colorectal screening. Similar rates were found for those who didn't have a usual source of medical care. However, the authors are hopeful that further implementation of the Affordable Care Act might help bridge these gaps in insurance coverage.
In the meantime, the authors advocate a greater effort in providing information and free or low-cost screenings to disadvantaged groups, as well as providing less invasive screening methods whenever possible.
And not all hope is lost. "Evidence-based interventions, such as client and provider reminders and others, can increase screening use," the authors wrote.
Source: Sabatino S, White M, Thompson T, et al. Cancer Screening Test Use — United States, 2013. Morbidity and Mortality Weekly Report. 2015.
Published by Medicaldaily.com