Map Of 'Fertility-Friendly' States Reveals 5 Best States For Pregnancy-Related Insurance Coverage And Support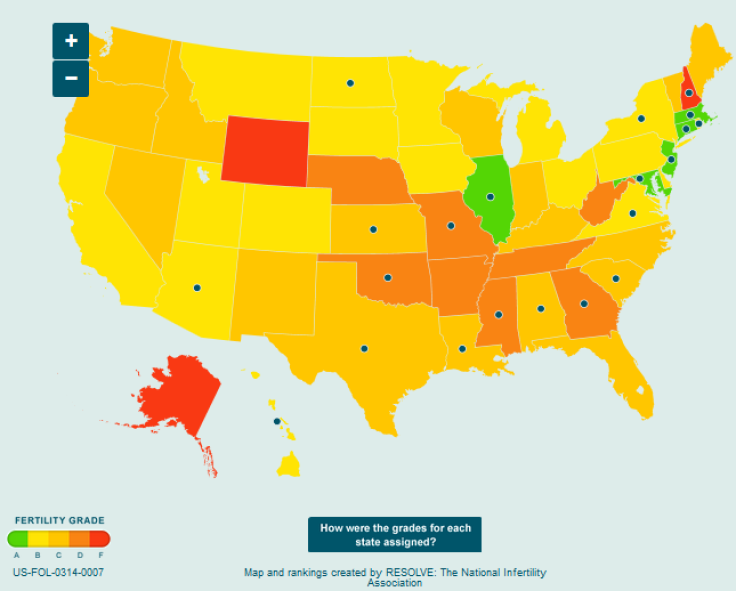 Fertility problems have been a growing concern among women across the U.S., with approximately 11 percent of those of reproductive age having difficulty getting or staying pregnant over time. To amount to the challenge, there is an overwhelming disparity of state-by-state access to pregnancy-related coverage and support, with only a few states providing robust coverage. In conjunction with National Infertility Awareness Week, RESOLVE: The National Infertility Association has released a map showing state-by-state rankings of fertility treatments in their annual scorecard to measure the "fertility friendliness" of each state.
"We developed the scorecard not to publicly call out specific states for their lack of access, but to bring attention to what still needs to be done in terms of improving access to care and support in every state," said Barbara Collura, president/CEO of RESOLVE, in the press release. This year, the states that had an "A" grade on the scorecard were Connecticut, Illinois, Maryland, Massachusetts, and New Jersey. The states that received an "F" grade were Alaska, New Hampshire, and Wyoming. The states' rankings were based on the insurance "climate" and the number of fertility specialists and support groups that are relative to the number of women with infertility living in those regions. To accurately measure the insurance climate of each state, RESOLVE and EMD Serono Inc., — a biotech drug company that makes fertility treatments — looked at whether the state had an insurance mandate covering fertility treatment and how extensive that coverage is in the state.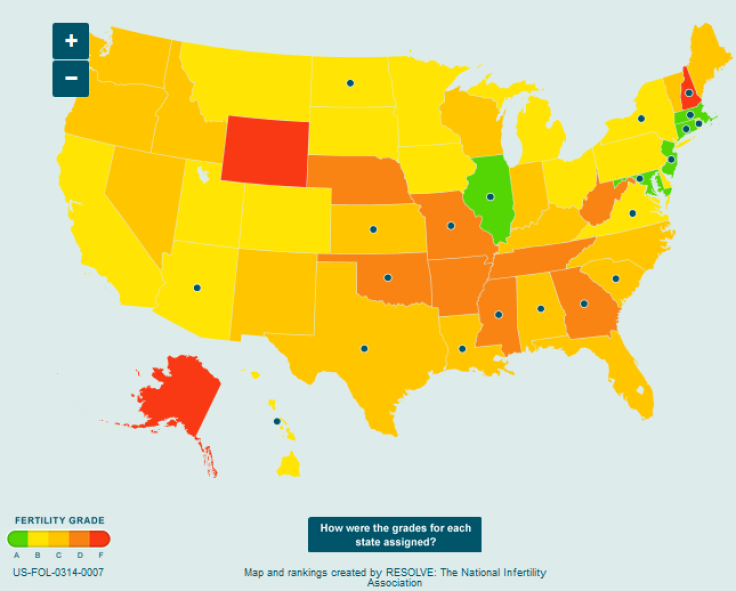 Although some states may have a mandate, this may just refer to merely covering the diagnosis and perhaps some tests, but it could exclude in vitro fertilization (IVF), and other treatments, which make the mandate overall ineffective. According to the American Society for Reproductive Medicine, the average price of an IVF cycle in the U.S. is $12,400 — but it is unclear if this includes medications. The costs of these treatments are alarmingly high, especially since most assisted reproductive technologies (ART) are not covered by insurance, putting many individuals to face the increased stress and long-term financial burdens.
While many Northeastern states have good coverage, Collura believes they should all remain alert when it comes to insurance mandates and state politics. "Even for the states that received top grades, we need to be vigilant to ensure access remains strong, and we need to remember that insurance mandates don't cover everyone," she said. "This year, we have also highlighted states where the insurance mandate to cover fertility treatment may be in jeopardy as a result of the Affordable Care Act, or where the state legislatures may have a history of trying to pass laws that negatively impact the infertility community." Currently, all of the "A" grade states, with the exception of Maryland, are at jeopardy, according to the map.
Although the map does intend to highlight the disparities between access to support resources and fertility treatment, RESOLVE hopes to start conversations between patients, health care providers, insurance companies, pharmaceutical companies, policymakers, and employers, in an effort to increase fertility treatment nationwide.
However, the biggest issue people could face is legislation. "My biggest fear is the politicians who want to shut down what we do," said Dr. Mark Perloe, medical director of Georgia Reproductive Specialists, to Today Moms. "There is a block of politicians who don't want IVF, who says 'God should make embryos, not doctors."
Southern states like Georgia and Tennessee have received a "D" grade in terms of their "fertility friendliness," as they are treading lightly. The state is also at risk with pending legislation in Georgia to "protect" embryos. "SR 420 would provide that Georgia recognize the paramount right to life of all human beings as persons at any stage of development," reads the Georgia Personhood Amendment: SR 420.
In the country's current political climate, Collura hopes the future of test tube babies are not at high risk. Providing the Fertility Scorecard can be used to become more educated about how to address both the financial and emotional barriers that women who suffer from infertility may carry. It can also get rid of the stigma associated with infertility and encourage a healthy dialogue among people and their elected representatives to increase fertility treatments.
Published by Medicaldaily.com