Mark Covert's 45-Year Running Streak Ends: US Record Holder Takes His First Day Off Since 1968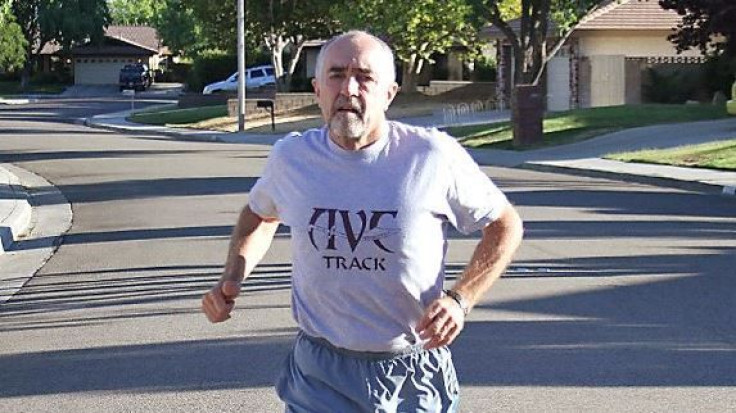 After maintaining a 45-year running streak, Mark Covert finally took his first day off on Wednesday. Covert announced on Tuesday that his running streak would end on his 45th year anniversary, and, as a man of his word, the 62-year-old didn't run the next day. Covert ended the streak because a problem in his right foot had gotten progressively worse in recent months, causing him to reduce his 2:22 marathon personal record to a slow jog.
"Anyone who saw me hobble around on Tuesday knows that the streak had to end, so it did," Covert said. "I was very happy that I was able to end it when I wanted to end it and it didn't end for some other reason."
His running streak lasted him long enough to earn the record holder title for the world's second-longest number of consecutive running days, which reached 16,417 on July 3, 2013. Covert has run more than 151,000 miles during his streak without missing a single day, regardless of injury, bad weather, travel plans, fatigue, and lack of motivation. Covert was 17 when the streak first started in 1968. He was a recent graduate of Burbank High School in Southern California and started his running career at Fullerton State College, where his mile clocked in at 4:09 and won him the 1970 NCAA Division II Cross Country Championships.
"I could have ended this years ago, and recently I could have ended it a few months ago," Covert told ESPN before he reached his anniversary date. "I can't really run hard and train anymore because of my food, so that's why I'm OK with ending it. At some level, what's the difference if it's 16,420 or 16,430 days? It makes no difference, but getting to 45 years was significant to me, so that's what I'm going to do."
Covert continued road racing recreationally, even after college, into his late 30s and kept up his training routine into his 50s. It was then he took up bicycling because it put less strain on his body and his foot especially. On Wednesday, Covert got up and rode 18 miles on his bike, instead of going for a run and said it didn't bother him that he didn't run; in fact, he said, he slept peacefully on his first break day in decades.
"I've always said that it's not something that I have to do, but something I get to do," Covert said. "As much as it is about going out the door every day, there's a whole lot of luck involved too. You can't step in a hole or get so sick you can't get out the door, but I've been very fortunate with my health in general."
According to Active.com, an online athletic community website that provides educational information and events for athletes of all types, running is one of the healthiest sports out there. People who run 10 miles or more each week are 39 percent less likely to use high blood pressure medications and 34 percent less likely to need cholesterol medications, compared to those who cap out at three miles. Covert has many years of running and biking ahead of him; according to research, people who work out 2.5 hours each week are 19 percent less likely to die prematurely. The amount of benefits from staying active and providing the body with the exercise it needs could sway anyone to start their own streak.
Covert was in an exclusive circle of running role models and record holders. One of Covert's former college teammates and longtime friend, Jon Sutherland, now holds the second longest running streak in U.S. history at 44 years and 307 days, according to the U.S. Running Streak Association.
Covert has been committed to running even longer than his wife, to whom he has been married for 34 years. "I don't really know how to feel, because I've never know him not to run. Ever. My children have never known their dad to not run," Mark's wife, Debi Covert, told ABC News.
But Mark says that his running days aren't completely over, and after receiving hundreds of e-mails and texts of support, he says he is humbled that he inspired people to start similar streaks and healthy lifestyles.
"It's obviously been a lot of fun and I still enjoy it, otherwise I wouldn't have done it or kept with it," Covert said. "I'll keep running after the streak ends. I really like putting my shoes on and getting out there, even if I'm out hobbling for three miles. It's just part of what I do."
Published by Medicaldaily.com