Mark Sanchez, Jets Quarterback, Likely Needs Surgery For Shoulder Injury; Could It End Starter's NFL Career?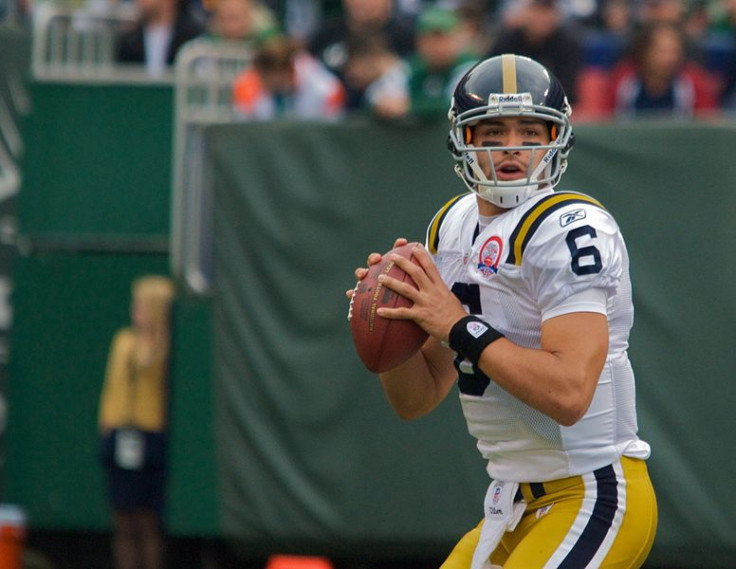 Mark Sanchez, starter for the New York Jets, suffered a shoulder injury during an Aug. 24th preseason game against the New York Giants in the second-half that could potentially end his National Football League (NFL) career. Sanchez, who was examined by Dr. James Andrews on Wednesday, was diagnosed with a labrum tear in his right shoulder, USA Today reports. The surgeon told the Jets QB that he had two options — surgery or rehab.
A person who knows about Sanchez's condition — but chooses to remain anonymous because the Jets have not announced the extent of the player's injury — told USA Today that Andrews told Sanchez that surgery may be the best option. The Jets starter received several opinions before visiting Andrews to decide what would be the best course of treatment for him.
"We're getting every opinion possible. I think it's prudent," said Sanchez, before visiting Andrews. "If I needed surgery right now, I never would have left Andrews' office. I would've stayed and got the surgery," he wrote in a text to ESPN late Wednesday night. When the player was asked if he wanted to deny that he was likely to have surgery, he texted, "There's nothing to report. It's reckless."
Sanchez will continue rehab for his shoulder, but with regard to surgery, no decision has yet been made, an anonymous second source told USA Today.
Whether the QB truly needs surgery remains ambiguous, but it looks like Sanchez still wants a chance to play at some point this season. The Jets QB was spotted on Tuesday at practice only throwing with his left arm. Speculation rises on whether those tosses could be the last of his NFL career with the Jets.
Sanchez's right shoulder injury could place him on the injured reverse (IR) list, which would end not only his season but also his career with the Jets, Fansided.com reports. The Jets starter believes that the Jets organization wants to place him there, according to a source close to Sanchez. "It makes it cleaner and easier that way" is what Sanchez thinks, the anonymous source told USA Today.
"No, we're not looking at that. We're looking at Mark continuing to rehab. We said it's day-to-day. It's very unpredictable sometimes. Mark knows his body better than anybody else. He's working very hard and so hopefully we'll get him back here soon," John Idzik, Jets general manager, said on Sept. 4th.
Sanchez's labrum tear treatment depends on what kind of tear he has. If the player suffered a tear due to shoulder instability, subluxation, or discolorations, this will require that the labrum be reattached to the rim of the socket, according to John Hopkins Medicine. If the Jets QB's labrum is distressed, no treatment is necessary since this sort of injury does not cause symptoms. Tears of the labrum near the biceps' tendon attachment are usually trimmed or reattached to the top of the socket.
Typically, it takes at least four to six weeks for the labrum to reattach itself to the rim of the bone, and another four to six weeks to get strong again, according to Dartmouth-Hitchcock Medical Center. During the recovery process, patients must take extreme precaution that they do not reinjure themselves.
Published by Medicaldaily.com