Marlboro Man Eric Lawson Dies At 72 Due To Respiratory Failure Caused by COPD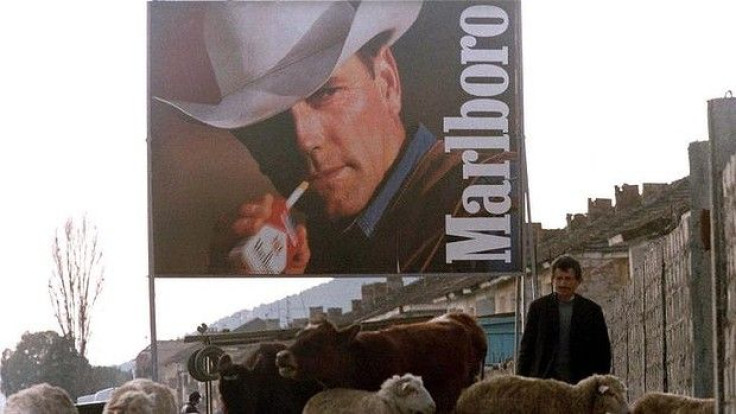 Actor Eric Lawson — best known for his portrayal of the Marlboro Man in the cigarette ads during the late 1970s — passed away earlier this month of respiratory failure caused by chronic obstructive pulmonary disease (COPD). Lawson has become the third spokesman for the cigarette company to lose his life due to a smoking-related disease.
On Sunday, his wife, Susan Lawson, said he had succumbed to his illness on Jan. 10 at their home in San Luis Obispo, Calif. Fellow Marlboro Man spokesmen who have died in the past include David Millar, who passed away due to emphysema in 1987, and David McLean, who died of lung cancer back in 1995. The advertisements for Marlboro cigarettes Lawson appeared in aired between 1978 and 1981.
Lawson, who admitted to having been a smoker since the age of 14, also appeared in a range of TV shows that included Baretta, Charlie's Angels, The Streets of San Francisco, and Baywatch, before being asked to star in the cigarette ads. Injuries sustained during a Western film ended his acting career back in 1997.
Although Lawson later appeared in an anti-smoking advertisement that mocked his portrayal of the Marlboro Man, he continued to smoke up until he was diagnosed with COPD, The Associated Press reported. He also appeared on Entertainment Tonight, where he discussed the health consequences involved in smoking.
According to the Centers for Disease Control and Prevention, COPD includes various diseases that affect airflow blockage and obstructed breathing. Diseases that fall under the COPD umbrella include: emphysema, chronic bronchitis, and asthma-related disorders. Smoking is known to be one of the main causes of this disorder along with air pollution, genetic factors, and respiratory infections.
Approximately 15 million people in the United States have reportedly been diagnosed with COPD; however, over 50 percent of adults with low pulmonary function were unaware they were also suffering from COPD. As of 2011, chronic lower respiratory diseases such as COPD were considered the third leading cause of death in the U.S.
Published by Medicaldaily.com