Maryland YMCA Pool Mishap: Malfunctioning Pump Floods Pool With Chemicals, Sending 35 to Hospitals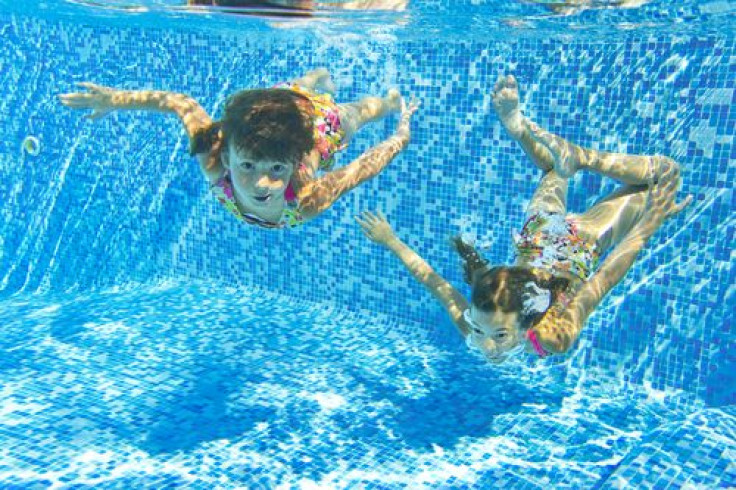 Community pools are a summer tradition for many families. While the kids get a chance to swim and play in generally supervised conditions, an ever watchful parent can relax, at least somewhat, by pool's edge. Yet, one sunny scene turned suddenly nasty on Wednesday morning when a malfunctioning filtration system pumped hazardous levels of chemicals into the YMCA Camp Letts pool in Edgewater, Md., sending 31 children and four adults to area hospitals.
Of the total 35 people who had been medically evaluated, Anne Arundel County Fire Captain Michael Pfaltzgraff reported five people had serious though not life-threatening injuries while another 13 people had minor injuries caused by a spill of either sodium hypochlorite or muriatic acid — it is not yet known which. Jackie Dilworth, a spokeswoman for YMCA of Metropolitan Washington, told The Washington Post more than two dozen campers, ages 6 to 16, had been swimming in the pool Wednesday when a pump unexpectedly shut down. After a counselor switched the pump back on, chemicals shot into the pool, and soon some of the swimmers began to feel nauseated and vomit while others coughed profusely.
"The camp staff quickly realized what was going on, and quickly put all the children through the showers, the fresh water, to decontaminate them," Pfaltzgraff told ABC News. First responders and ambulances arrived quickly after counselors called 9-1-1. An investigation found a mechanical malfunction with the pool's chemical filtration system, which maintains the cleanliness of the water inside the pool.
Following the mishap, other campers continued with their overnight and day sessions at Camp Letts, which sits on a 219-acre wooded peninsula along the Chesapeake Bay. YMCA, a non-profit organization, runs community programs in 10,000 neighborhoods across the nation.
Swimming Pool Chemistry 101
Generally, the Centers for Disease Control and Prevention advises these chemicals be handled in a well-ventilated area. Those whose job it is to manage these chemicals should always read the labels and immediately call 9-1-1 in case of an emergency. Chemicals are added to pool water to kill disease-causing germs, maintain the pH balance, improve water quality, and protect against algal growth. Swimming pool chemicals include various kinds of disinfectants and sanitizers, with chlorinating agents being the most common. Within this category, there are inorganic agents, such as calcium hypochlorite, lithium hypochlorite, and sodium hypochlorite, and organic agents, such as trichloroisocyanuric acid, potassium dichloroisocyanurate, and sodium dichlorocyanurate. All of these chemicals need to be stored and handled with care, as all have the potential to be dangerous if misused.
Published by Medicaldaily.com