Maya Angelou Beaten And Held Captive, Survives Domestic Violence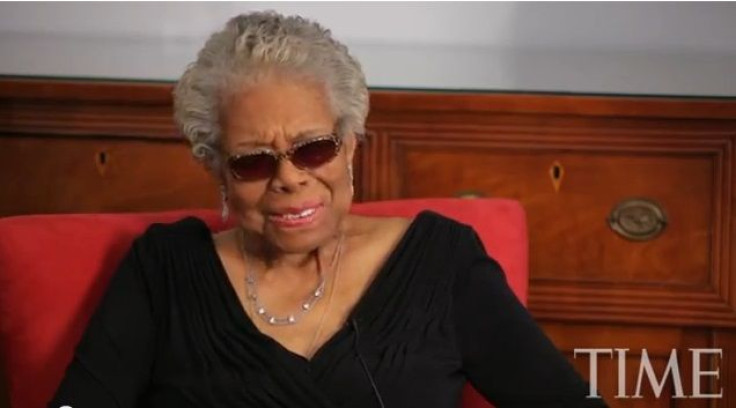 In a current interview series with Oprah Winfrey, Maya Angelou revealed that she is a survivor of domestic violence.
Angelou not only shared details of her ex-boyfriend's abuse, but also alleged that he held her captive for several days. Angelou shared these events, which have been described in her latest book "Mom & Me & Mom," upon request from Winfrey, who refered to it as the "greatest" of all the stories contained in the book.
Angelou said that a "loving" and "wonderful" man she had been dating picked her up after work one day and drove her to a romantic spot in San Francisco. "I thought we were at a romantic place out by the bay," Angelou said in the interview. "And he hit me with his fists -- and he had been a prize fighter. He hit me, he beat me.Sometimes I'd go unconscious."
Domestic violence, according to the American Psychiatric Association, occurs in every culture, country, and age group, and affects people from all socioeconomic, educational, and religious backgrounds. In a 1995-1996 study published by the US Department of Justice, Extent, Nature, and Consequences of Intimate Partner Violence, nearly 25 percent of women and 7.6 percent of men surveyed said they had been raped and/or physically assaulted by a current or former spouse, cohabiting partner, or dating partner/acquaintance at some point in their lifetime.
Angelou's Rescue
Angelou's frightening story unfortunately does not end by the San Francisco bay. Regaining consciousness at some unknown point, Angelou was driven to a restaurant, where the man then showed her off to other men. "He said, 'This is what you do to a b- who's cheating on you,'" said Angelou. The owner of the restaurant, though, happened to be a friend of Angelou's mother, Vivian Baxter. Quickly, he called Vivian and told her what was happening to her daughter.
"My mother went to her pool hall... and got the baddest, most scarred-up people she could find and she said, 'I want you to come with me,'" Angelou told Oprah.
Three days later, Vivian and her crew located the captive Angelou, broke down a locked door, and saved her from the abuser. Afterwards, Vivian nursed her daughter back to health.
Born Marguerite Johnson in St. Louis, Missouri on April 4, 1928, Maya Angelou was raised in rural Arkansas by her grandmother after her parents divorced. I Know Why the Caged Birds Sings, a novel nominated for the National Book Award, recounts her childhood experiences up to the age of 16. In the book, readers learn how the confidence Angelou's grandmother taught her diminished after her mother's boyfriend raped her when she was eight.
This trauma silenced her for five years, but she overcame her mute expression of pain when a teacher introduced her to literature. Nevertheless, Angelou spent much of her adolescence trying to escape from family problems and took on various jobs such as working as a nightclub singer in New York and San Francisco. She changed her name to Maya Angelou when she became a cabaret dancer in her early twenties.
In her thirties, Angelou became serious about her writing. She joined the Harlem Writers' Guild and became an activist for black rights. In four autobiographical novels, Angelou discussed her journey to self-discovery, which was influenced by encounters with leaders such as Malcolm X and Martin Luther King, Jr.
In 1959, Angelou became the northern coordinator for the Southern Christian Leadership Conference. She later worked as editor for The Arab Observer, the only English-language weekly newspaper published in the Middle East, from 1961 to 1962. She lived in Accra, Ghana, and taught music and drama and worked as the features editor of the African Review. In 1974, she was appointed to the Bicentennial Commission by Gerald Ford and was later appointed to the Commission for International Woman of the Year by Jimmy Carter. She delivered her poem "On the Pulse of the Morning" at President Bill Clinton's Inaugural Address in 1993.
Like Maya Angelou, many domestic violence survivors do not require professional intervention once they are safe and have support. Other common emotional traumas, such as depression, anxiety, panic attacks, substance abuse, and post-traumatic stress disorder (PTSD), triggered by domestic violence, can lead to suicide attempts, psychotic episodes, and even homelessness. Children exposed to domestic violence are at risk for developmental problems, psychiatric disorders, school difficulties, aggressive behavior, and low self-esteem.
Published by Medicaldaily.com