McCormick Recalls Ground Oregano Due To Salmonella Risk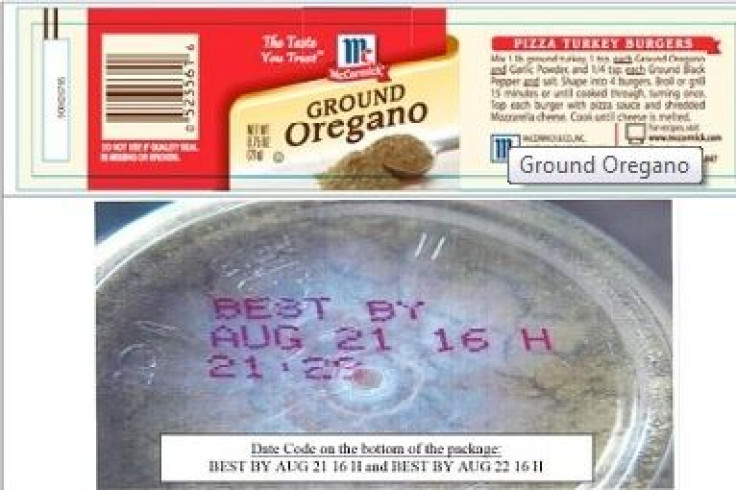 For you foodies, oregano might be your favorite spice for seasoning chicken, fish, and vegetables, but how safe are the spices we consume on a regular basis? In the past, several spices have been found contaminated with Salmonella or chemicals, and now you can add McCormick's Ground Oregano to the list. McCormick & Company issued a recall this week after finding that some packages of the spice could contain Salmonella.
The recall comes after a routine test from the Food and Drug Administration (FDA) found that the oregano could be contaminated with Salmonella. The agency immediately alerted McCormick & Co., and 1,032 cases of the spice were recalled. Distributors were told to take all potentially contaminated products off their shelves. Other McCormick ground or whole spices were not affected by the recall.
The recalled oregano includes all 0.75-ounce bottles with the UPC code 0-523561-6, and "Best By" dates of Aug. 21, 2016 and Aug. 22, 2016. The shipping dates for the recalled spices were from April 4, 2014 to Aug. 5, 2014. They were shipped to nearly every state, as well as internationally, to Aruba, the Bahamas, Bermuda, Indonesia, Jamaica, the Netherlands, Puerto Rico, Singapore, Thailand, and the Virgin Islands. No illnesses were reported.
Those who purchased the recalled items should not return them to the stores where they were purchased, but should throw them out along with their containers instead, the FDA said. This is not the first time that there's been a recall like this. Earlier this month, the FDA recalled Sunfood's Organic Carob Powder for Salmonella, and last month the FDA recalled Ecoato Sweet Paprika Powder for the same thing.
What is it about these spices that makes them so vulnerable to harmful bacteria? Spices, especially fresh ones sold in farmer's markets, tend to be key contributors to foodborne illnesses. In a May study, researchers from Kansas State University found dead whole insects, insect parts, human hair, and other contaminants in batches of black pepper, thyme, oregano, and turmeric. They also reported that some of the spices they purchased from farmer's markets tested positive for Salmonella. This happens because organic spices in farmer's markets tend to be uncovered, allowing people to touch them freely, and insects to land inside. In the case of the McCormick oregano, the spice may have been contaminated while factory workers handled it.
According to the Centers for Disease Control and Prevention (CDC ), 48 million Americans get sick from the food they eat each year. Contaminated produce is responsible for nearly half of all illnesses. Salmonella, which is commonly linked to fresh produce, causes about 1.2 million illnesses in the United States every year. The bacteria can cause diarrhea, vomiting, fever, and abdominal cramps, according to the CDC. It can also become fatal if it enters the bloodstream.
Your oven is one of your best tools to help reduce your chances of getting sick from Salmonella. It's recommended that spices be added to food before cooking, rather than after, so that all harmful bacteria can be destroyed. The CDC says that cleanliness is also helpful in eradicating Salmonella. Wipe down all surfaces that touch raw meat or eggs with soap and water, and wash fruits and vegetables thoroughly before eating or cooking.
Published by Medicaldaily.com