McDonald's Blitz Box: Restaurant Tests Out Family-Style Meal On Kansas City Locations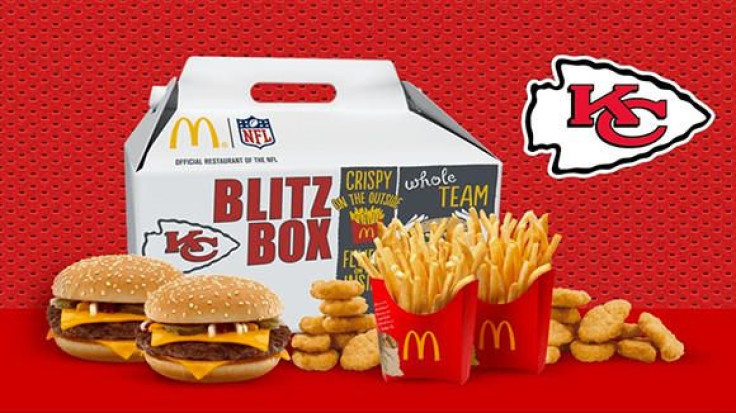 McDonald's has started testing its family-style Blitz Box at restaurants in Kansas City, in accord with the beginning of the NFL season. At $14.99, this menu option may look enticing, but if you're entering the drive-through by yourself, 2,940 calories could be a bit overindulgent.
Featuring two Quarter Pounders with cheese, two medium orders of French fries, and a 20-piece order of Chicken McNuggets, the Blitz Box seems like a suitable meal for a party of five. However, broken down to two Quarter Pounders with cheese at 520 calories a piece, 20-piece Chicken McNuggets at 940 calories, and two orders of medium French fries at 380 calories a piece, this trans fat-packed and cholesterol-filled smorgasbord could spell trouble for the McDonald's customer who struggles with moderation.
Although this promotion is new in the U.S., the Blitz Box is not the first multi-person meal that the fast food chain has tried in other locations around the world. The Dinner Box meal first debuted in Australia back in 2010 when customers were welcome to mix and match options such as Big Macs, McNuggets, Quarter Pounders, and Double Cheeseburgers, BurgerBusiness reported.
"There's a trend in eating now to bundling. It used to be you'd see teens eating meals separately. Now you'll see them getting two or three fries and burgers for four or five and putting it all in the center to share," Don Thompson, McDonald's CEO, told reporters at an Open Door Media event back in June.
Published by Medicaldaily.com