McDonald's CEO Called Out By 9-Year-Old Hannah Robertson For Selling Junk Food To Kids [VIDEO]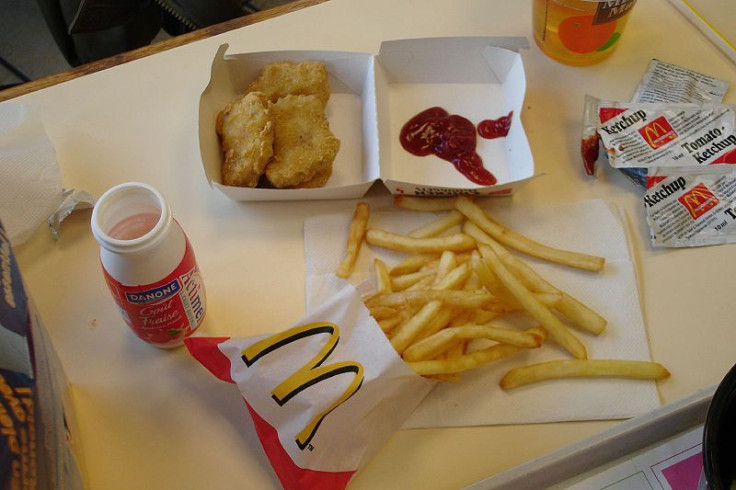 "It would be nice if you stopped trying to trick kids into wanting to eat your food all the time," quipped 9-year-old Hannah Robertson in a conversation with McDonald's CEO Don Thompson at a shareholders meeting in Oak Brook, Ill.
The fourth grader, whose mom runs a business that encourages children to make healthy food choices, read from prepared remarks as she said that the fast food chain lures kids into eating junk food by using toys and cartoon characters to promote the meals.
"If parents haven't taught their kids about healthy eating, then the kids probably believe that junk food is good for them because it might taste good," said Hannah.
Thompson, in a low, calm voice, responded to Hannah by thanking her for her comments then defending the company's food.
"First off, we don't sell junk food, Hannah," said Thompson. "My kids also eat McDonald's. They cook with me at home. I love to cook. We cook a lot of fruits and veggies at home."
According to NYDailyNews.com, Thompson took over the fast food chain less than a year ago. The chain is trying to transform it's "junk food" reputation by offering more healthy items on the menu. As Thompson pointed out to Hannah, McDonald's does offer salads and includes apples and fat-free chocolate milk as an option for its happy meals.
With competitors like Panera Bread and Hale and Hearty offering more wholesome foods, at least in appearance, fast food restaurants are under pressure to change their menus to draw in customers. Changes include offering more nutritious options and more choices to mix and match. In many ways, McDonald's is considered to be leading the charge in making fast food more waist friendly.
Take a listen to the exchange between Hannah and Thompson below.
Published by Medicaldaily.com