McDonald's Cuts Angus Burgers: Too Expensive, Less Healthful Than Big Macs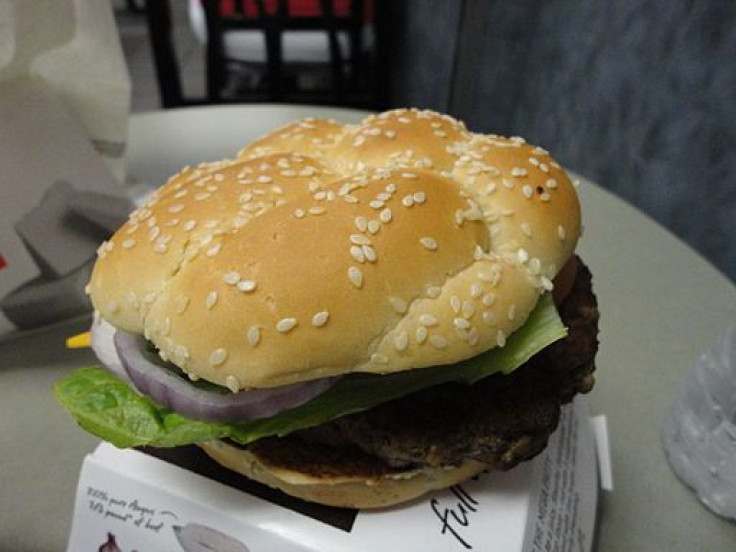 McDonald's is making cuts to its menu, and Angus burgers are among the food items that will no longer be available to customers. While the company has taken pains to assert the health value of certain menu options, the latest decision seems driven more by economics than by health concerns.
Other victims of the cuts are likely to include Angus snack wraps, Chicken Selects, and the Fruit & Walnut Salad, report the Associated Press.
Like other popular fast food chains, McDonald's has been trying to revamp its image in recent years to meet the changing expectations of American consumers.
Since filmmaker Morgan Spurlock's critical documentary Super Size Me entered the popular consciousness almost a decade ago, McDonald's has taken pains to change public perceptions of the brand as promoting unhealthy food.
Nutrition facts about McDonald's food have been made available online and at all national franchises, and as healthier options like salads, chicken snack wraps, oatmeal, and sliced fruit entered its menu, the company launched ad campaigns highlighting the freshness of certain items in order to cater to younger, more health-conscious demographics.
Most recently, McDonald's has begun to offer Egg McMuffin breakfast sandwiches with egg whites.
The newest cuts from McDonald's, however, seem to be more about the bottom line than the health value of items like the Angus burgers and snack wraps.
According to the company's nutrition facts, the Angus line of burgers is about as calorie-dense as the perennially popular Big Mac, and much higher in saturated and trans fat content, sodium, and cholesterol—all of which should be limited in a healthy diet.
The AP reports that the changes are meant to highlight the affordability of McDonald's food in today's difficult economic climate. The company has been aggressively pushing its Dollar Menu, but the more expensive Angus burgers cost up to $5.
"When you can get four or five burgers off the Dollar Menu, nobody's going to buy the Angus burger," consultant Richard Adams told the AP. "The Dollar Menu has become a real problem for these chains."
Rising beef costs were another factor in the decision to cut Angus burgers, restaurant analyst Howard Penney told the AP— the burgers were not popular enough that McDonald's customers would have been willing to pay more for the premium Angus beef.
Varieties of cheaper items like Quarter Pounders, which are cheaper but not markedly healthier than other McDonald's burgers, will be expanded in the near future, reports the AP.
Published by Medicaldaily.com