Medicaid Patients Turn to Hospitals for Emergencies, Not Routine Care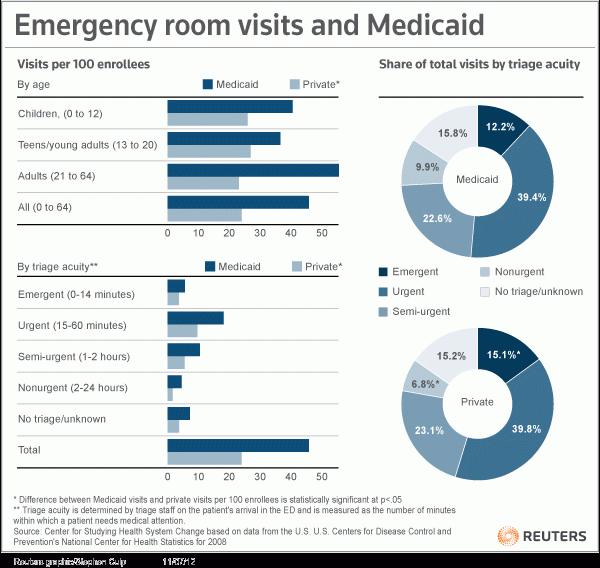 Most people covered by U.S. government health insurance for the poor visit hospital emergency rooms for perceived emergencies, not for routine care, much like those with private insurance, according to a study released Wednesday.
Researchers said the study helps dispel the notion that poorer patients are clogging hospitals for routine treatment -for a bad cold, for example - that others receive treatment at lower cost in a clinic or doctor's office.
Patients on Medicaid - the insurance program for low income people financed by the federal and state governments - do visit emergency rooms at twice the rate of privately insured patients, said the study by the non-partisan Center for Studying Health Systems, reflecting ongoing challenges in finding alternative care.
But, like others, they go for urgent complaints of injuries and potentially serious problems like such as high fevers and breathing trouble, especially in children, the study said.
One in 10 Medicaid patients used an emergency room for non-urgent care, compared to about 1 in 14 for patients with insurance through their employer or purchased on their own, the study showed.
"If you picked a Medicaid recipient and a privately insured patient out of an ED (emergency department) waiting room and asked them both why they were there, the likelihood that they described symptoms we would call non-urgent is pretty similar," said Emily Carrier, a researcher for the center.
The findings come after the U.S. Supreme Court recently upheld President Barack Obama's healthcare overhaul but allowed states to opt out of the law's provision opening Medicaid up to more people.
Several state governors have already refused to implement the law, including its Medicaid expansion. At the same time some states are seeking ways to cut Medicaid costs, including discouraging unnecessary and costly emergency room use in the face of ongoing budget crunches.
Researchers at the center combed government statistics from the U.S. Centers for Disease Control and Prevention's National Center for Health Statistics for 2008 - the most recent data available at the time.
While some patients in emergency rooms initially reported serious symptoms, sometimes the diagnosis turned out to be minor, according to the study, which was funded by the Robert Wood Johnson Foundation, a nonprofit organization aimed at improving U.S. health.
But Carrier, an emergency room physician, said it can be very difficult for patients to tell how severe a problem is, especially when it comes to children and infants who cannot easily describe their discomfort.
"This stuff is hard, as anyone who has had a kid and tried to figure out if they are really sick knows," she said.
Among Medicaid patients 12 and younger, more than half of all visits were for injuries, serious breathing trouble, and common infections such as strep throat and bronchitis, the study said. Medicaid adults age 18 to 64 also used the emergency room most for range of ailments from digestive issues to mental disorders as well as injuries.
STATE MEDICAID COSTS
Obama's 2012 healthcare law aims to widen access to health insurance coverage, in part by expanding Medicaid in 2014 to insure more low-income Americans. Medicaid coverage would help them receive routine medical care and avoid costly hospitals, proponents argue.
Nearly 46 out of 100 non-elderly Medicaid patients visited the emergency room in 2008 compared to 24 out of 100 privately insured patients, the study said. The reasons pointed out the difficulty of providing alternatives to the emergency room for both Medicaid and privately insured patients.
"Many primary care offices cannot see patients quickly enough to manage urgent problems or do not have the right equipment at the practice," the study said.
About 58 million people are enrolled in Medicaid, including seniors, according to a 2007 Kaiser Family Foundation estimate.
@ 2012 Thomson Reuters. All rights reserved.