Medical Mysteries: Chinese Baby Born 'Pregnant' With Twins In Abdomen Due To Fetus-In-Fetu Condition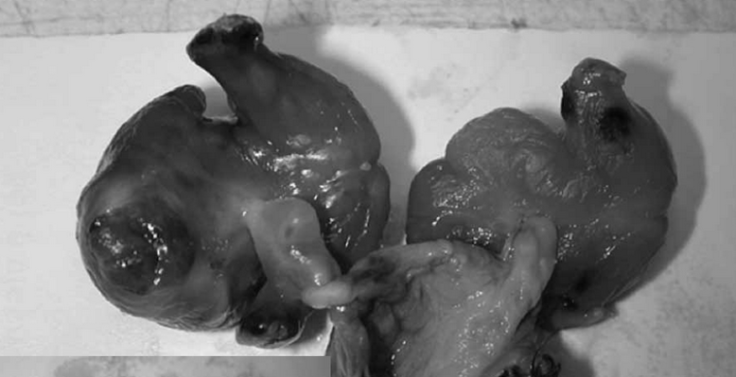 A newborn girl in China came out of her mother's womb to be found "pregnant" herself with twins. The Chinese baby born in Queen Elizabeth Hospital in Hong Kong had to undergo surgery at 3 weeks old to remove the fetuses that were believed to be at 8 to 10 weeks of gestation. Doctors claim this is the city's first documented case of fetus-in-fetu, an extremely rare condition that occurs in one in 500,000 births, according to the latest issue of the Hong Kong Medical Journal.
The mother of the 9-pound girl was suspected to have been pregnant with triplets, but the surviving baby interred her siblings inside her body. The two fetuses each had four limbs, a spine, rib cage, intestines, and anus, but were different in weight. The twins weighed 14.2 grams and the other 9.3 grams, and each had an umbilical cord connected to a single placenta-like mass.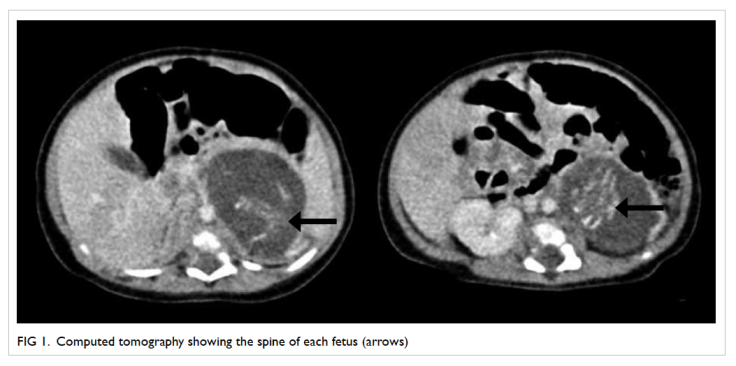 Doctors emphasized the complicated nature of this rare medical condition, and err on the side of caution. "Since it is impossible for the little girl to have conceived the pregnancy on her own, the fertilization of the twin fetuses, of course, belongs to her parents, which has gone to the wrong place. It was almost impossible to detect during the prenatal check-up, as the embryo inside the baby was too small," said Dr. Yu Kai-man, a specialist in obstetrics and gynecology, the South China Morning Post reported.
Rare, but a possibility, there has only been 200 cases of the fetus-in-fetu phenomenon reported. When babies are born this way, they can be seen in many different ways. In the case of the newborn girl, she had a mass of fetal tissue between her liver and left kidney inside her body cavity. Doctors were able to tell there were two separate fetuses, because upon removal there were two separate partially formed fetal structures.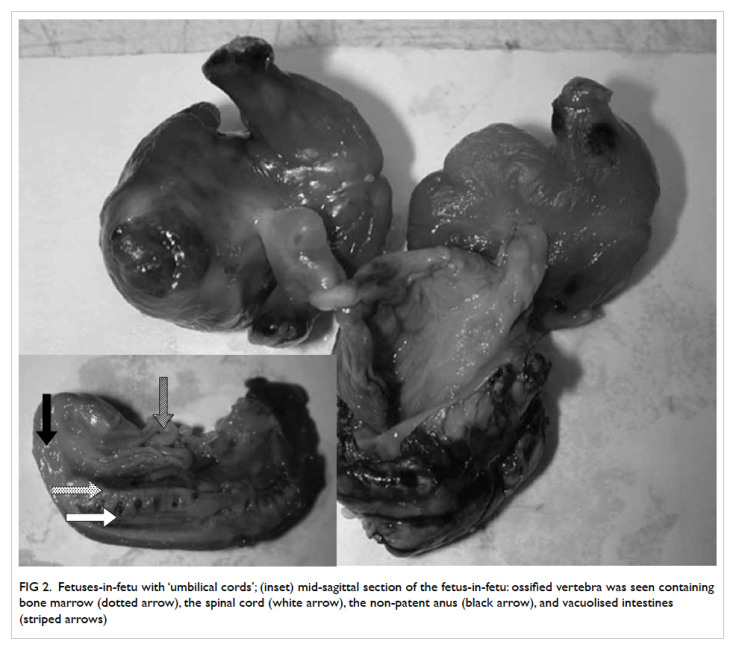 Aside from the possibility of being pregnant with triplets, researchers hypothesize the condition was triggered by either the mom having more than one previous abortion, or that the mass is a teratoma —— a non-cancerous tumor containing tissue, hair, and even teeth. Although the cause is still being investigated, the girl was able to make a good recovery and was discharged from the Yau Ma Tei hospital eight days after surgery.
A similar 2012 case published in BMJ Case Reports, a Chinese schoolgirl, believed to have fetus-in-fetu, grew a third arm out of her back, along with the remnants of a parasitic twin while she was still in the womb. The arm had been part of an identical twin that had failed to have been pushed out of its sister's body. The twin also had a breast and an arm with a shoulder blade and two fingers.
These cases may be prevented with early testing and early detection. "The widespread use of antenatal ultrasound in early gestation may provide more concrete evidence … and shed light on this intriguing condition," the researchers wrote.
Published by Medicaldaily.com