Medical Student Learns The Hard Way To Not Take Selfies With Your Sick Patient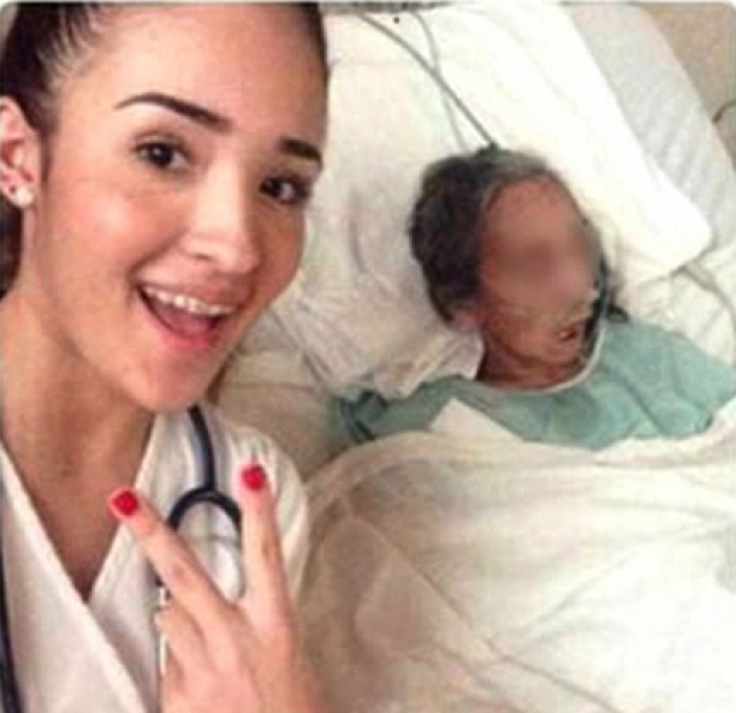 Some selfies just shouldn't be taken.
It's a lesson that María José González, a dentistry student at the Valle de México University (UVM), may never forget.
As originally reported by Proceso magazine , González has spent the past month engulfed by public outrage after a self-taken image of her smiling next to a seemingly very sick patient was first leaked onto Facebook and has since gone viral.
The pic, originally shared via the instant messenger Whatsapp, contained a none-too-flattering comment from González as well. "I was on duty and saw a woman dying and then took a selfie," González reportedly wrote, complete with an inappropriate emoji.
"The picture has been misunderstood, I took it some time ago and yesterday the lady was very sick but I had struck up a rapport with her," González apparently wrote on her Facebook page in an attempt to defend herself, according to the Daily Mail . "She told me some things about her life and as it was my first day of my internship, I wanted to have a souvenir. Yes, I took several pictures but I did ask permission and she did agree."
Though she would later concede that the woman was indeed sick and unable to fully close her mouth, she emphasized that the photo was taken a long time ago and that the patient had not died during her shift.
About the only thing tilting in González's favor is her insistence that the picture was never meant to be shown to the public, since it only resided on her computer. "Someone with a lot of cheek" apparently leaked the picture in order to hurt her and her family's reputation, according to her.
It's unfortunately a job well done, since the University has since announced that it will start an investigation into the picture, with its content not reflecting the "values" of the school.
Bad selfie etiquette among medical staff is hardly just a North American phenomenon. This past March , a 25-year-old Russian paramedic named Tatiana Kulikova was fired after she began taking pictures of her patients while in the ambulance, taking time to label one of them as "another moron."
Published by Medicaldaily.com