Medtronic Wireless Pacemaker Succeeds In U.S. Study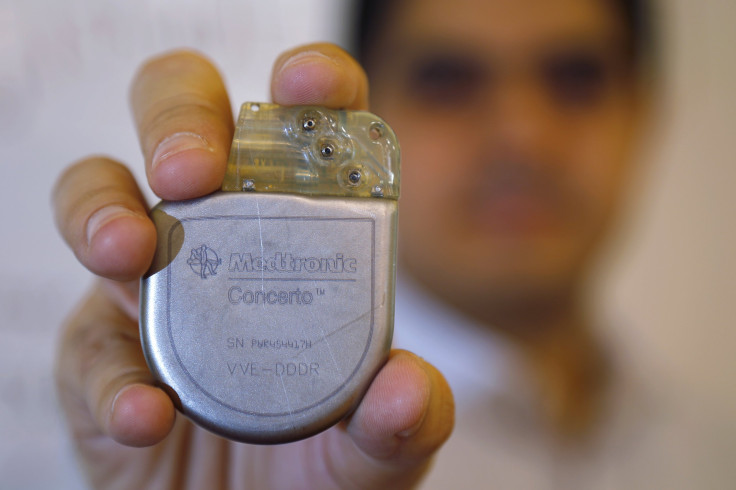 (Reuters) - A tiny pacemaker from Medtronic Plc that attaches to the heart without a traditional lead wire proved safe and effective in a late-stage trial that will be used to seek U.S. approval of the device, according to data presented at a medical meeting on Monday.
The Micra pacemaker, which is delivered to the heart through a patient's arteries using a catheter inserted at the groin, met its goals for safety and effectiveness in the 725-patient study that compared the device with data on patients with conventional pacing systems. The results were presented at a meeting of the American Heart Association in Orlando, Florida.
Traditional pacemakers typically are implanted in the upper chest through an incision and connected to the heart with a wire, or lead, that is inserted into a vein, allowing the device to send electrical pulses to correct a slow heart rate.
The Micra pacemaker works without a lead wire, eliminating the potential for complications that can arise if a lead wears out, becomes infected or dislodged, said Dr. Dwight Reynolds, lead investigator of the Medtronic-sponsored study and chief of the cardiovascular section at the University of Oklahoma Health Sciences Center.
"The pacemakers we have today are good, but they are not without their challenges," said Reynolds.
The leadless Micra pacemaker had fewer major complications overall than conventional pacing systems, with 96 percent of patients facing no such problems six months after receiving the implant, exceeding the study's target of 90 percent, Reynolds said. The low complication rate was achieved despite the study's inclusion of high-risk patients, such as those with chronic lung disease.
In addition, 98.3 percent of patients with a Micra pacemaker showed stable pacing at six months.
"Both the safety and efficacy endpoints were hit with flying colors," Reynolds said.
The development of a leadless pacemaker is possible due to advances in battery chemistry and chip systems, Reynolds noted.
Medtronic said it hopes to gain U.S. regulatory approval to sell the Micra pacemaker sometime after May 1.
Competitor St Jude Medical Inc is also working on a leadless pacemaker.
Published by Medicaldaily.com