Meet The Human Jessica Rabbit: Woman With O Cup Breasts And 23-Inch Waist Wears Corset 23 Hours A Day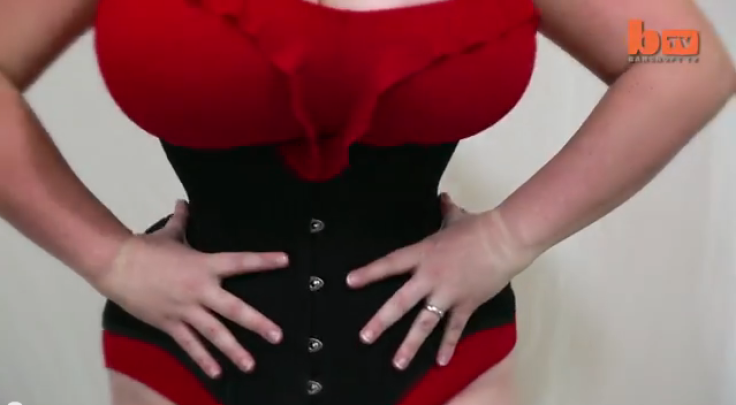 Some little girls, while playing dress up, dream of becoming like their favorite Disney princess or Barbie when they grow up. An Australian woman with a huge admiration for cartoon character Jessica Rabbit has fulfilled her childhood fantasy by undergoing extreme plastic surgery. Penny Brown, 25, a fetish model, has boosted her size H breasts to size O, has gone from a 38- to a 23-inch waist, and from wearing a tiny steel-boned corset 23 hours a day.
"I've been obsessed with Jessica Rabbit from a really early age," Brown told Metro. "I think she is incredibly sexy and there's a real power and strength to her character. I've always wanted to copy that — at five I was already thinking about breast implants."
Brown's quest to match the exaggerated hourglass figure of the red-headed cartoon character started when the military wife first put on a corset in February 2012. The fetish model wanted to send her husband, Cooper, 28, who was deployed overseas with the U.S. Air Force, some sizzling poses with the lingerie on. After all was said and done, Brown took a liking to the feeling of the corset, comparing it to a "permanent hug."
Cooper shows full support for his wife's obsession and raves about her extraordinary proportions. "Penny is as close to Jessica Rabbit as any mere mortal can get," he said, the Daily Mail reported. "Her shape is exciting and interesting. I don't like the ordinary or the generic."
Brown is anything but ordinary or generic, as her two breast augmentations and corset training have made her into a corset-cult celebrity. The human Jessica Rabbit admits wearing a corset for long periods of time is anything but easy, especially during the first four months. "I stuck to little meals, and also things that incorporate liquid into the food — like smoothies," she said, The Huffington Post UK reported. "One thing that was difficult was not being able to eat my favorite spicy foods — because they would wreak havoc on my stomach when it was restricted in the corset."
The corset diet, or simply corset training, can potentially wreak havoc on Brown's health. This controversial technique has possible side effects such as changing a person's bone structure via rib cage compression. A book Le Corset, written by Dr. Ludovis O' Followell in the early 1900s, showed corsets were impacting women's health during the Victorian Era. The corsets, similar to those today, had so much boning and cinching, which left women with symptoms of fatigue and shortness of breath, while crushing their inner organs. This lack of oxygenation may contribute to metabolic syndrome and lead to weight gain.
Despite health warnings, Brown will continue to undergo plastic surgery, planning a third augmentation to boost her cup size again. "I've always been obsessed with big boobs," Brown said. "The bigger they are the better and I don't think I'll ever be big enough."
Published by Medicaldaily.com