Melanie Gaydos, Model With Ectodermal Dysplasia: 'I Only Wanted To Be Photographed By People Who Understood Me'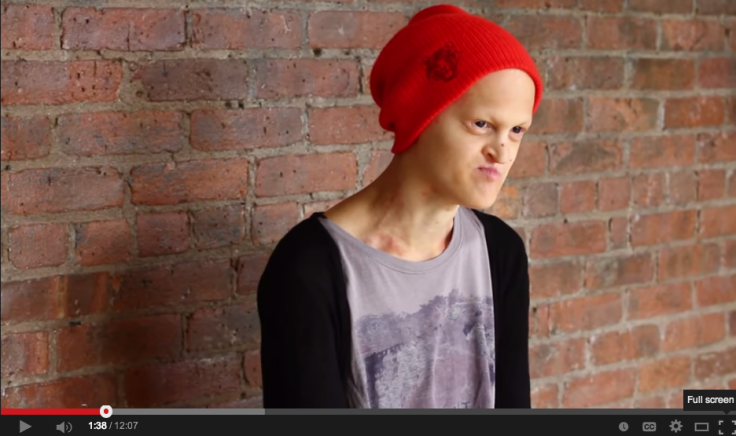 Melanie Gaydos suffers from ectodermal dysplasia, an umbrella term that includes varying conditions of skin, hair, nail, and teeth defects. But looking different from the typical high fashion model didn't stop her from pursuing her dream to be in fashion photo shoots.
Melanie's grace and creativity have landed her in some stellar compositions that highlight her slender body, acute fashion — and bald head.
In a new video completed by the What's Underneath Project, Melanie opened up about her difficulties in being "different" both in general society and the fashion world. Anyone who tries to break into fashion knows that it can be a cutthroat industry, so to be someone with ectodermal dysplasia making it is quite inspiring. In the video, Melanie explains that people often look at her differently, which, during a certain period of time, led her to wear various forms of wigs to cover up her lack of hair.
"I wore wigs really only for societal purposes," she said in the video. When asked about how her modeling started, she notes that her boyfriend at the time was a photographer and encouraged her to start: "I only wanted to be photographed by people who understood me."
It was, of course, difficult for her to merge seamlessly into the fashion industry. "When I go on a photo shoot and there are other industry models there, they normally don't know what to make of me," she said in the video. "It's difficult for me in the fashion world, because people think of me kind of as a gimmick."
Ectodermal dysplasias are a "remarkably diverse group of disorders," according to the National Foundation for Ectodermal Dysplasias. They are genetic disorders that become apparent at birth, when the teeth fail to develop normally. Though there is no cure for ectodermal dysplasia, research is ongoing to discover new ways to allow patients to live as normal a life as possible.
Published by Medicaldaily.com