Melanoma Drug, Keytruda, Earns Accelerated FDA Approval For Last Resort Treatment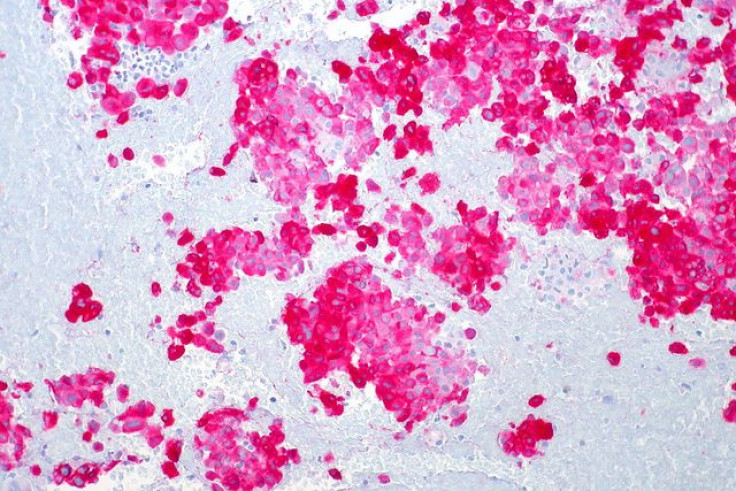 The new Merck drug Keytruda (pembrolizumab) was granted accelerated approval from the Food and Drug Administration (FDA) in the treatment of advanced-stage melanoma on Thursday.
Melanomas are the most dangerous form of skin cancer, which itself is the most common form of the disease in the United States. Melanomas account for roughly five percent of all cancer cases. Treating them requires a careful assessment of risk to determine whether outright surgical removal is sufficient, or, in the event a tumor can't be removed, doctors need to turn to pharmaceutical treatments. Keytruda has been approved as a last-ditch effort when patients no longer respond to other drugs.
"Keytruda is the sixth new melanoma treatment approved since 2011, a result of promising advances in melanoma research," said Dr. Richard Pazdur, director of the Office of Hematology and Oncology Products in the FDA, in a statement.
The accelerated approval comes with some qualifiers. Even though Keytruda earned a fast-track approval status, which generally respects the drug's clinical benefits, the FDA makes explicit "an improvement in survival or disease-related symptoms has not yet been established." Ongoing clinical trials continue to test the drug's benefits while it is made available to consumers.
Keytruda was approved under the orphan product designation, meaning it services an ailment or condition that affects fewer than 200,000 people each year. Melanomas were responsible for 70,853 diagnoses and 12,212 deaths in 2011 (the most recent year the data is available). Men are more than twice as likely as women to die from melanomas.
Efficacy trials of Keytruda included 173 participants who received either a recommended dose of 2 milligrams per kilogram or an increased dosage of 10 mg/kg. In the half that received the recommended dose, roughly 24 percent of subjects saw their tumors shrink. The high-dose group experienced around the same results. The effect lasted at least one to eight months, on average, and extended past this point for most people.
In safety trials, Keytruda was shown to produce minimal side effects, the greatest of which were fatigue, cough, nausea, itchy skin (pruritus), rash, decreased appetite, constipation, joint pain (arthralgia) and diarrhea. The FDA points out Keytruda also has the potential for severe immune-mediated side effects in the lung, colon, hormone-producing glands, and liver. However, most of these were uncommon.
The drug is the first to block a cellular pathway known as PD-1, which restricts the body's immune system from attacking melanoma cells. The FDA states Keytruda is intended to be taken following treatment with ipilimumab, a type of immunotherapy.
Published by Medicaldaily.com