Melanoma Risk Increases 80 Percent For White Women Who Get Serious Sunburns Before Age 20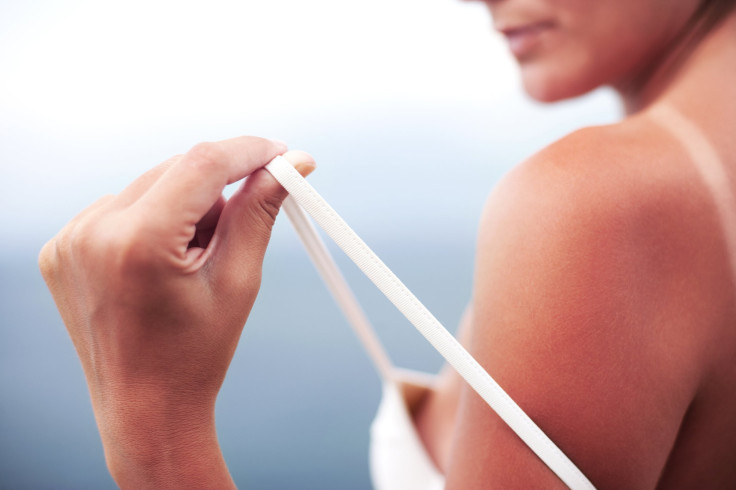 Overexposure to the sun is a known risk factor in developing the skin cancer melanoma. A new study found that white females who received five or more blistering sunburns before age 20 were increasing their risk for developing melanoma by 80 percent.
In the study, published in Cancer Epidemiology, Biomarkers & Prevention, researchers followed Caucasian female registered nurses over the course of 20 years. According to the press release, prior to the study the participants provided information on their medical histories and potential risk factors for skin cancers. Potential risk factors included the number of moles on legs, the number of blistering sunburns between age 15 and 20, and a family history of melanoma.
Results showed that Caucasian women who had at least five severe sunburns between the ages of 15 and 20 had a 68 percent increased risk for basal cell carcinoma (BCC) and squamous cell carcinoma (SCC). However the biggest risk increase was for melanoma. Participants in the study who received multiple burns during this critical time period experienced an 80 percent increased risk for melanoma. Surprisingly those who experienced severe sunburns later on in life did not have an increased risk for melanoma. "Pattern of sun exposure was not uniformly associated with the risk for all the three main skin cancers we see in the United States, suggesting that there are some differences in the pathophysiology of these skin cancers," explained Abrar A. Qureshi, professor and chair of the Department of Dermatology at Warren Alpert Medical School of Brown University, in the press release.
It is believed that melanoma is caused by brief, intense exposure to sun, which could cause a blistering sunburn, rather than years of tanning. An individual's risk for developing melanoma is a combination of genetic and environmental factors. For example, individuals who have red hair, large amounts of moles, and skin that burns easily, should still avoid excessive sun exposure throughout life regardless of whether they received serious sunburns in their youth. Unfortunately, getting a sunburn is extremely common. According to a poll by The Skin Cancer Foundation, 42 percent of people polled admitted to getting sunburned at least once a year. This new study suggests that although all individuals should avoid overexposure to the sun, it may be especially important earlier in life. "Parents may need to be advised to pay more attention to protection from early-life sun exposure for their kids in order to reduce the likelihood of developing melanoma as they grow up," Qureshi added.
Melanoma is the most dangerous form of skin cancer. Melanomas often resemble moles and sometimes develop from moles. When recognized and treated early it is almost always curable. However when it is left and spreads to other parts of the body, the cancer can become fatal.
Source: Wu S, Han J, Laden F, Qureshi AA. Long-term Ultraviolet Flux, Other Potential Risk Factors, and Skin Cancer Risk. A Cohort Study. Cancer Epidemiology Biomarkers & Prevention. 2014.
Published by Medicaldaily.com