Michael Douglas Claims Oral Sex Caused His Throat Cancer; Study Suggests Catherine Zeta-Jones Is Safe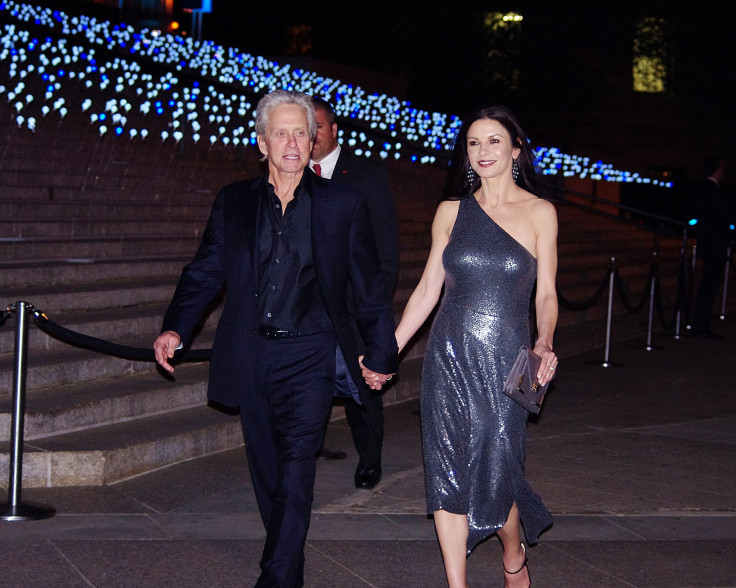 American film star Michael Douglas, 68, made the revelation Sunday that his throat cancer had been caused not by his years of drinking and smoking but by human papillomavirus (HPV) which he believes he contracted through oral sex.
Some strains of the sexually transmitted virus cause cervical and anal cancer, while others cause genital warts. HPV has been implicated in the growing rate of head and neck cancers, oropharangeal cancer in particular. However, a Johns Hopkins University scientist reported Saturday that people whose long-term sexual partners have mouth and throat cancers from HPV are at no higher risk of developing oral HPV infections — meaning spouses and couples need not change their sexual practices to avoid infection.
While promoting his Liberace biopic Behind the Candelabra, Douglas, who is married to actress Catherine Zeta-Jones, discussed his 2010 cancer diagnosis with reporters. "This particular cancer is caused by HPV, which actually comes about from cunnilingus," Douglas said. "I did worry if the stress... didn't help trigger it. But yeah, it's a sexually transmitted disease that causes cancer. And if you have it, cunnilingus is also the best cure for it."
Shortly after Douglas was diagnosed with stage four cancer, which is often deadly, he underwent an intensive eight-week regimen of chemotherapy and radiation, refusing a feeding tube in favor of a liquid-only diet. "That's a rough ride. That can really take it out of you," he said. "Plus the amount of chemo I was getting, it zaps all the good stuff too. It made me very weak."
More than two years later, Douglas is free of throat cancer, which "95 percent of the time doesn't come back."
Observers had long attributed Douglas' cancer to his wanton habits with smoking and boozing. Few suspected sex as a possible culprit. Douglas was hospitalized in 1992 for alcohol addiction, and has been known to abuse recreational drugs.
Mahesh Kumar, a head and neck surgeon in London, told the media that the rate of HPV there had risen dramatically during the past decade, particularly among younger people. A recent study of more than 1,300 people with oral cancer found that 57 percent also had HPV.
"It has been established beyond reasonable doubt that the HPV type 16 is the causative agent in oropharyngeal cancer," Kumar said. However, Kumar said he doubted Douglas' cancer was caused by HPV alone — and refuted the claim that cunnilingus could also help cure the condition. "Maybe he thinks that more exposure to the virus will boost his immune system. But medically, that just doesn't make sense."
Gypsyamber D'Souza, an associate professor of epidemiology at the Johns Hopkins University Bloomberg School of Public Health, presented research on HPV infections in spouses of people who had oral cancers at a meeting of the American Society of Clinical Oncology in Chicago. "While we can't guarantee that the partners of patients will not develop oral HPV infections or cancers, we can reassure them that our study found they had no increased prevalence of oral infections, which suggests their risk of HPV-related oral cancer remains low," she said.
In other words, Zeta-Jones may be relieved to find out she is at low risk for developing HPV-related oral cancer.
The rate of oral cancers related to HPV is rising among white men in the U.S., and fear of transmitting the virus has increased, D'Souza said. Those with persistent oral HPV infections are at increased risk for developing oropharyngeal cancers, located at the base of the tongue, tonsils, pharynx, and soft palate.
In the study, investigators followed 166 men and women with HPV-related oropharyngeal cancers, as well as 94 spouses and long-term sexual partners. While more than half of the patientswith a history of oropharangeal cancers began the study with at least one type of HPV — including HPV-16, the viral type most commonly associated with cancers — the infection persisted after a year in only six percent of the patients.
Of spouses and partners, only 6.5 percent had oral HPV infections at the time, with all six clear of the disease a year later.
"The oral HPV prevalence among partners who participated in this study are comparable to rates observed among the general population," D'Souza said. "We suspect that long-term spouses and partners have been exposed to HPV, like most of us, and appear to have cleared the virus."
D'Souza advised the usual caution with new sexual partners but recommended that longer-term couples not worry about changing sexual practices, including cunnilingus.
Funding for the study was provided by the Johns Hopkins Innovation Fund and the Richard Gelb Cancer Prevention Award.
Published by Medicaldaily.com