Michael Nowd, Youth Football Player, Kicked Off Team For 'Being Smart'; Can Skipping A Grade Do More Harm Than Good For Kids?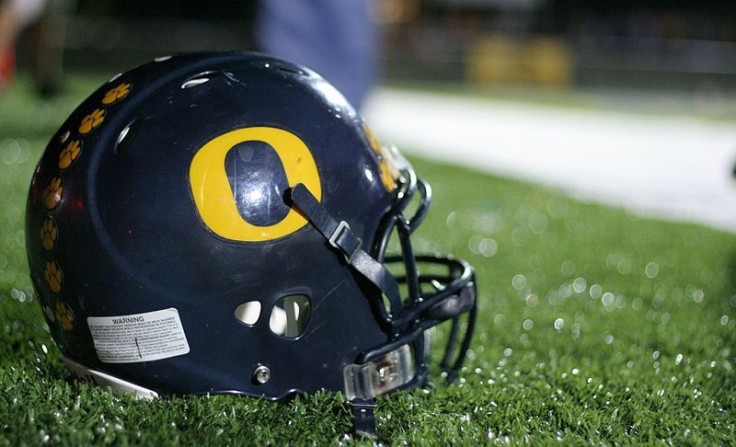 Youth football player, Michael Nowd from central Massachusetts, was told he can no longer play with his football team mid-season because he skipped a grade.
Nowd, an eighth-grade honors student at Applewild School in Fitchburg, Mass., skipped a grade five years ago because he was excelling academically compared to other students his age. Until now, the gifted eighth-grader has played with the Lunenburg Bengals until an anonymous complaint to the Central Mass Youth Football and Cheerleading Conference brought his special situation to light, CBS Boston reports.
The 12-year-old football player was playing with a team that was not for his grade level — the Lunenburg Bengals are a seventh-grade team. The conference officials have stated that they have no other choice but to ask Nowd to transfer to another team according to his grade group.
Nowd's mother, Dianne, feels that her son is being unfairly punished for being a gifted student. "I feel like they're discriminating against a kid for being smart," she told CBS Boston.
Her son has been the team captain and running back for the Bengals since kindergarten. "Football is kind of my life," Nowd said. "This is my favorite sport and I love coming here."
The American Youth Football (AYF) organization's rule states that an athlete must play according to his current grade level unless he has been held back a grade and is still young enough to pass the cutoff age. Seventh-grade Bengals coach, Steve Powell, believes it is unfair for the league to punish Nowd after the hard work and commitment he has put in for his football team.
"We practice four days per week, two hours per night, and to see any kid put all that work in then have to tell him mid-season that he can't play anymore is tough," Powell told Sentinel & Enterprise. "Especially when you preach to these kids to work hard in school, and then to have this happen is pretty devastating."
The AYF's grade requirement does not appear to be a safety issue. Nowd is currently 12 years of age, and he could be as old as 13 and still play for the Bengals. Physically, he isn't any bigger than his teammates who are currently a grade below him, reports CBS Boston.
"They reward a kid for staying back, but they punish a kid for academically succeeding. It just doesn't make sense," said Powell to the Sentinel & Enterprise.
Powell allowed Nowd to play in a game against Leominster even after the boy got the AYF letter saying he was no longer eligible to play for the team. Dowd has received an outpour of support from his teammates and even team moms. "All of us were saying, 'If he can't play, we don't want to play,'" said Donovan Powell, Bengals quarterback, to CBS Boston.
"We definitely wanted to prove a point and fight it out by saying, 'Hey, we're not losing Michael!'" said Debra Hall, a team mom.
Nowd encouraged his team to play because he feels it's not about him. "It's about the team," he said. Dianne wants her son to get a waiver and then have a rule implemented that could address special cases for students who skip a grade like Nowd.
Nowd watched last Saturday's game from the sidelines and will probably have to sit out the final four games of his youth career too.
Students who skip a grade may often experience difficulty socially adjusting to their environment. Kids tend to be smaller and less mature than their classmates, which can lead to constant teasing and even bullying at school, according to Babycenter.com. "Long-term, a child who skips a grade will be in school with kids who will hit life markers earlier – getting a driver's license, dating – and there may be peer pressure to do things that younger child is not yet ready to do," says Linda Powers Leviton, a psychotherapist specializing in the needs of the gifted.
To accurately access if your child is ready to skip a grade, the John Hopkins School of Education recommends looking at the guidelines on its website.
Published by Medicaldaily.com