Michelle Knight Speaks In Court, Ariel Castro Sentenced To Life In Prison [VIDEO]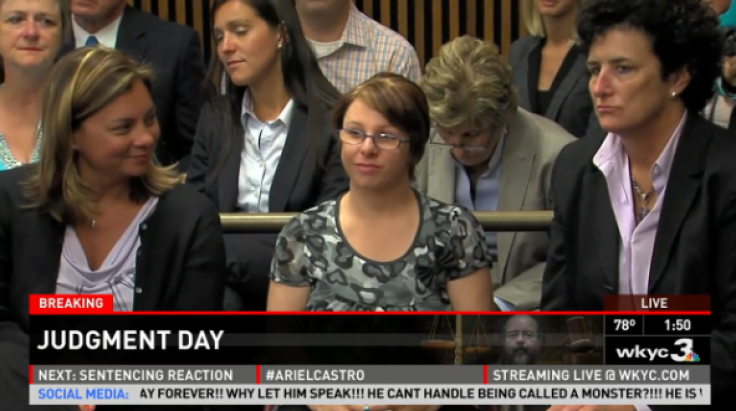 "I'm not a monster. I am a normal person. I have an addiction. I'm sick," said Ohio kidnapper Ariel Castro as he plead with the judge for a lighter sentence.
But his victim's words struck a stronger chord with Judge Michael Russo, who sentenced Castro to life in prison plus 1,000 years without parole for kidnapping three women and holding them in his home for nearly 10 years.
"There is no place in this city, this country, there is no place in this world for those who enslave others," the judge told Castro.
Michelle Knight, a victim who spent 11 years in captivity with Castro, spoke in court for the first time Thursday. Knight's son was two years old when she was kidnapped by Castro. She said that she is excited to begin her new life and put the terror of the experience behind her.
"You took 11 years of my life away and I have got it back," Knight said. "I spent 11 years in hell, now your hell is just beginning. I will overcome all this that has happened but you will face hell for eternity. From this moment on, I will not let you define me or affect who I am. I will live on, you will die a little every day."
Castro exercised his right to make a statement during sentencing. He insisted that he has a problem and, although he knows what he did is wrong, he wants the public to know that he is not a monster. Castro said that he was the victim of sexual abuse as a child and that his sickness was not unlike an alcoholic or drug addict. His addiction was sex and pornography.
"My sexual problem is so bad on my mind. I'm impulsive... I began to practice the art masturbation and pornography. It got so bad that I used to do it two to three hours a day nonstop," said Castro. "And when I would finish, I would just collapse."
Though Castro expressed guilt, he did not express remorse. He said that he did not torture the girls, as many believe he did. He described the home his victims lived in as "harmonious." Castro said that the victims could not have been tortured because they "look normal" and "partied" after being returned to their families.
"I'm not a violent person, I just kept them there without being able to leave," said Castro. "I never beat these women. I never tortured them."
The kidnapper said that he was not trying to make excuses and apologized to the girls and their families, and his family as well. He will spend the rest of his life behind bars.
Published by Medicaldaily.com