Michelle Obama Announces Winning Recipes In 'Healthy Lunchtime Challenge' Nationwide Contest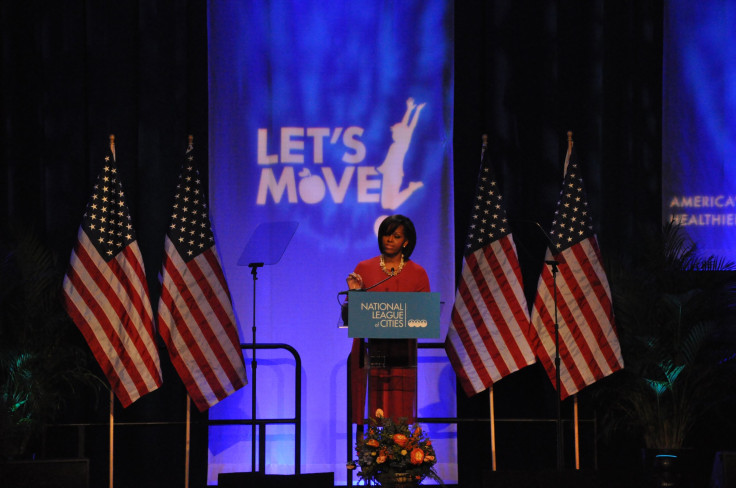 The second annual "Healthy Lunchtime Challenge" invited children ages eight to 12 to design an original lunchtime recipe that is healthy, affordable, and delicious. The winners included children from every state, the District of Columbia, and three U.S. territories. The challenge is part of the Let's Move! Initiative, launched by First Lady Michelle Obama as program to fight the increasing threat of childhood obesity in America.
Winners were selected from over 1,300 recipe entries, which were evaluated in Washington, D.C. by a panel of judges that included Let's Move! executive director and assistant White House chef Sam Kass, Epicurious editor-in-chief Tanya Steel, representatives from the U.S. Department of Agriculture (USDA) and Department of Education, two children graduates from Share Our Strength's Cooking Matters program, and D.C. Central Kitchen's Michael F. Curtin , Jr., whose organization prepared the food for tasting.
The USDA's MyPlate guide was used to judge each individual dish in terms of healthiness. Judges also looked at the creativity of the dishes and read each story the children wrote that explained the thought process of each recipe. The challenge also invited parents and guardians to work with their child to create their lunchtime recipe. The inclusion of two young girls from the Share Our Strength's Cooking Maters program, Cha'lita Willia and Sabrina Burton, represented the children's taste pallet to test if it would be suitable for children to eat.
"When Mrs. Obama came into office and started this initiative, I thought, 'oh my god, what amazing synergy.' She understands, like I do, how important it is to get kids into the kitchen and to understand what healthy eating is and how important it really is," said Steel. "So I thought of this concept for the contest and I thought wouldn't it be amazing to get kids really excited to know that they could go and meet Mrs. Obama and go to the White House."
After narrowing it down to two dishes from every state, the judges decide on the winners who are invited to a dinner at the White House with President Obama and the First Lady. The winning dishes are served to the young guests, and a tour of the White House kitchen and garden are given afterward.
"Our Kids' State Dinner is one of my favorite events of the year, and the kids chefs who come from around the country never cease to impress and inspire me with their creativity and ingenuity," said the First Lady. "I'm counting down the days until the winners join me at the White House to celebrate these healthy and delicious meals that kids everywhere will love."
Michelle Obama has been working with children through volunteer and community service projects for years. The "Healthy Lunchtime Challenge" is a continuing effort to solve the childhood obesity epidemic within a generous Let's Move! Campaign that umbrellas the challenge, which was launched in 2010 as an effort to bring together community leaders, teachers, doctors, nurses, moms, and dads in order to stimulate the nationwide effort toward a healthier America. The "Healthy Lunchtime Challenge" is co-sponsored by the U.S. Department of Education and Epicurious, a food website created by Conde Nast Media.
According to the Centers for Disease Control and Prevention, childhood obesity has more than doubled in children (age six to 11) and tripled in adolescents (age 12 to 19) in the past 30 years. Obese youth are more likely to develop risk factors for cardiovascular disease, such as high blood pressure or cholesterol. They are also much more likely to become obese as adults. In response, the First Lady is working to stop the problem, turning to education, practice, and reward.
Published by Medicaldaily.com