Michigan Man Receives Life-Saving Transplant After Carrying Artificial Heart In Backpack For 555 Days
Our hearts are the engines of our bodies, pumping blood at a steady rhythm to our arms, legs, and vital organs — but not for Stan Larkin.
When Larkin was just 16 years old, he collapsed on the basketball court near his home in Ypsilanti, Mich., and was later diagnosed with a debilitating heart condition known as ARVD (arrhythmogenic right ventricular dysplasia). The condition causes irregular heartbeats and put Larkin at immediate risk of sudden cardiac arrest, which is especially dangerous to athletes. Doctors installed a defibrillator to control the electrical signals within Larkin's heart in order to steady the abnormal heartbeats. It was a temporary fix that forced Larkin to sit on the sidelines and abstain from any physical or strenuous activity.
But in April 2012, Larkin's ARVD progressed to bi-ventricular dysplasia, which meant both sides of his heart's chambers were unable to pump blood out of the heart. The father of three would need a transplant to liv; however, his O-positive blood type was the most common, and put him on a waiting line behind hundreds of others who also needed a brand new heart. According to the U.S. Organ Procurement and Transplantation Network, an average of 22 people die each day while waiting for a transplant.
"We felt like the best option for him would've been heart transplantation, but we also felt that his condition was changing very quickly and we did not think he would survive long enough until a suitable heart was identified for him," Larkin's cardiac surgeon Dr. Jonathan Haft, from the University of Michigan Hospital, said in an interview with Michigan Live. "He was dying of shock. His heart was not pumping enough blood around to maintain health of all of his vital organs and without urgent intervention he would not have survived."
To buy him more time, doctors removed the dying heart from his body in November 2014 and hooked him up to "Big Blue," a 418-pound machine that allowed him to live while he waited. The bulky artificial heart, which acts as two chambers in his chest and regulates airflow, left him bedridden —and it wasn't until the U.S. Food and Drug Administration approved of a portable version of Big Blue that he could move. The new machine, called the Freedom portable driver, was a 13.5-pound improvement that fit nearly into a backpack.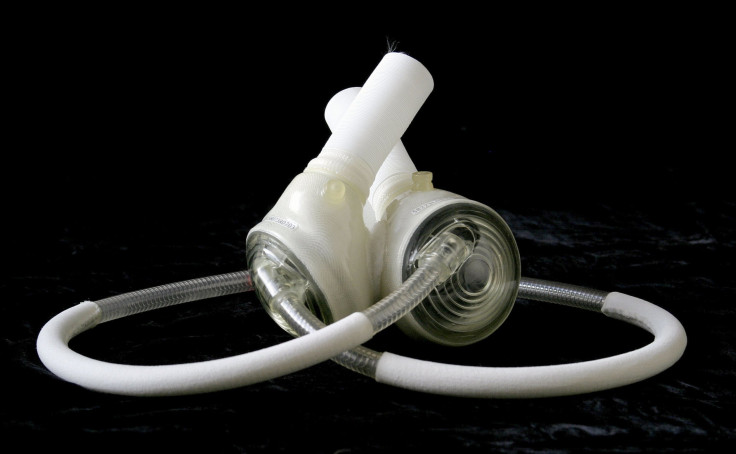 "It's just like a real heart," Larkin said. "It's just in a bag with tubes coming out of you, but other than that, it feels like a real heart. It felt just like a backpack with books in it, like if you were going to school."
Larkin carried his heart around with him 24 hours a day, seven days a week, making him the first person in history to be discharged with the device. He was able to live a fairly normal life, and even play in some basketball games. Finally, in May 2016 at the University of Michigan Frankel Cardiovascular Center, Larkin took off his backpack and received the heart transplant he had waited 555 days for.
"I enjoyed the backpack," Larkin said at a news conference. "It brought my life back."
While Larkin is able to move forward and live a normal, healthy life, his brother fights the same battle. ARVD is a genetic heart condition, and just weeks after Stan was diagnosed, so was his younger brother Domonique. He had a defibrillator implanted just like his brother, but defibrillators work best for those with a one-sided heart problem. After awhile, when his condition worsened, he was also on bed rest with Big Blue.
Unlike Stan who was able to live outside of the hospital until his own transplant, Domonique stayed in the hospital for six weeks before receiving a new heart in January 2015. Domonique has lost two of his three children from the familial heart condition.
"It's been like having a new life," Domonique said in a recent interview with Michigan Live. "You can do everything you weren't able to do and everything you thought you would probably never be able to do again. It really shows you what we're striving to accomplish with transplantation – giving people their entire lives back and letting them live happy lives as well as contribute meaningfully. That's the truly touching part about transplants."
Published by Medicaldaily.com