Michigan Teen Carries Brother With Cerebral Palsy On His Back For 40 Miles To Generate Disorder Awareness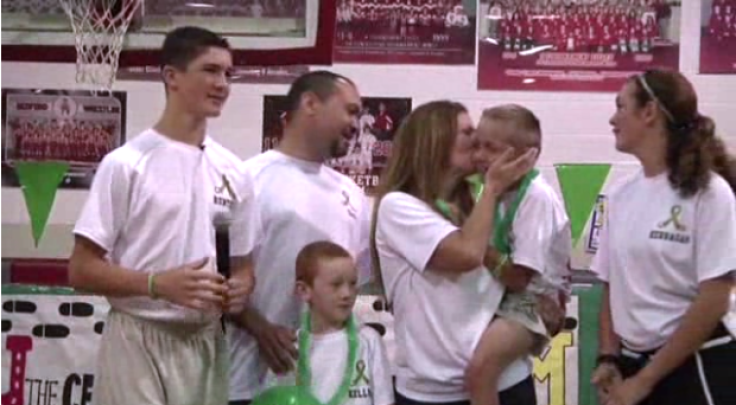 It came to Hunter Gandee's mother in a dream one night. She envisioned her oldest son carrying his younger brother, Braden, some 300 miles from their home in Temperance, Mich., to the northern Michigan town of Mackinac. Hunter, 14 and an avid wrestler, relished the idea of carrying Braden, who suffers from cerebral palsy, to generate awareness for the disorder.
"So we just started playing with the idea and we realized that to do something like that, to go to Mackinac, would take two weeks walking 20 miles every day, and we just didn't have the time," Danielle Gandee told The Ann Arbor News. Instead, they set their sights on the University of Michigan — roughly 40 miles from their home —"and it seemed to be the perfect distance," Gandee said.
And so on Saturday morning, beginning at Bedford Junior High School's gymnasium in Temperance, and with the support of his parents, younger siblings, and friends from high school and the surrounding community, Hunter and Braden set off.
Cerebral palsy is marked by severe neurological and nervous system deficiencies, such as difficulty learning, remembering, hearing, seeing, and moving. In Braden's case, his condition mostly affects his muscle tone, coordination, and reflexes. While atop his brother's back, Braden's greatest hindrances came from chafing on his legs. For Hunter's part, the student council member took periodic breaks to rest and stretch, including an overnight rest period at the 25-mile mark. He completed the final 15-mile leg the next day.
Despite his obvious fatigue, Danielle Gandee said, her son continued to push others and motivate them to stay along for the ride. "That's just Hunter," she told The Ann Arbor News. "This is what he wanted to do. I knew he'd do it, and I had faith in him the entire time." The family's real concern was the 7-year-old on Hunter's back, Gandee said. Braden "had some injuries and blistering and stuff like that from some of the equipment and just the heat and sweat, so we were worried we were going to have to push him in his stroller."
The entire Gandee family credits wrestling as the linchpin for Hunter's success. Fellow wrestlers from U of M supported Hunter in the walk, which was planned to end at the University's Bahna Wrestling Center. At each of Hunter's matches, said Sam Gandee, the boys' father, Braden keeps track of Hunter's stats and knows exactly where his older brother stands in the tournament leaderboards. "Without wrestling this wouldn't have happened," Sam Gandee said.
A group of people stood cheering at the Wrestling Center as Hunter and Braden approached on Sunday afternoon. The Gandee clan expressed gratitude to everyone that donated their time for the walk, and celebrated the awareness for Braden's cerebral palsy that the walk generated. Braden was also especially grateful for having a back to cling to over those grueling 40 miles and explained what it meant to have an older brother who cares so much.
"He always looks out for me," Braden said. "It means so much to have a brother like this."
Published by Medicaldaily.com