Middle Schoolers Snorting Smarties Candy May Lead To Death; Sugar High Affects Nasal Passages, Lungs, And Allergies [VIDEO]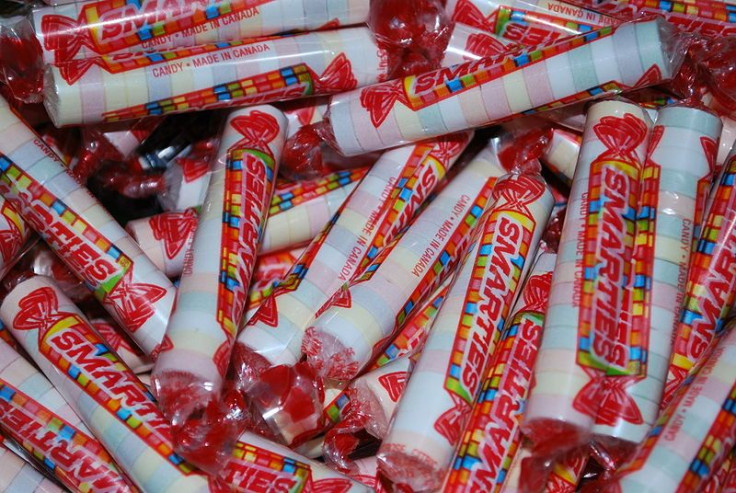 A dangerous trend among middle schoolers may soon prompt parents, convenience stores, and pharmacies to hide their Smarties candy stash. Kids have adopted a new extracurricular activity: crushing up and snorting the chalky, round candies to mimic the effects of getting high. Perhaps unsurprisingly, these child snorters are at risk for dangerous side effects such as nasal maggot infestation, nasal scarring, lung irritation or infection, and allergic reactions that can be fatal.
School officials from a school in Scarborough, Maine, have warned parents to watch out for kids snorting Smarties, claiming it is a "widespread phenomenon" that has circulated in videos featured on YouTube. In a document titled "Important Health Information for Parents Regarding the Candy, Smarties," parents were advised students not only snort, but also smoke Smarties.
"To smoke Smarties, students crush the candies into a fine powder while it is still in its wrapper, tear off an end, pour the powder into their mouths, and blow out the smoke. Some are able to put the powder into their mouths and blow it out their noses," according to the document. Scarborough school officials remain unclear about the "benefit" for students engaging in this practice.
Although snorting Smarties has recently become a predominant issue in middle schools across the U.S., the dangerous trend is anything but a new phenomenon. YouTube videos traced back to 2007 show kids snorting the Smarties among their peers, resulting in extreme coughing after inhaling the candies.
In 2007, Radio DJs Tyler Kruze and Ryan Walker from Z-104 in Madison, Wisc., attempted to snort the round candies live on air, which was later uploaded to YouTube. The DJs did this taping to warn kids snorting Smarties can have detrimental health effects. "It hurt so bad, dude. It got up there and it was like so much… so fast," Kruze said. Upon snorting the candy, Walker experienced watery eyes and simply warned kids, "Don't do it."
School officials in Portsmouth Middle School in Rhode Island sent a note to parents last Thursday to warn them to watch out for students snorting Smarties, WPRI-TV reported. The note, sent via email, elaborated on the methods in which students have been snorting the sugary candy. Also, parents were warned about the possible medical issues that can occur as a result of snorting Smarties.
Portsmouth blogger and parent John McDaid, contacted a former Mayo Clinic doctor on the other possible health dangers of using Smarties as a drug. Dr. Oren Friedman, associate professor of otorhinolaryngology at the University of Pennsylvania, told McDaid on his blog hard deadlines, "There's no way to verify the claims about respiratory arrest, laryngospasm, or leading to drugs." However, he believes patients with foreign materials in their noses can face a variety of problems, even years after the insult occurs.
Nasal maggot infestation, or nasal myiasis, occurs when flies lay larvae eggs inside the nose as a result of the Smarties rammed up inside the lining, says the Centers for Disease Control and Prevention. Parents can check if their children begin to feel a tickling sensation inside their noses, and also be on the lookout for a foul smell coming from the inside of their nasal passage. Symptoms of nasal maggots include sneezing and a sticky discharge that can lead to coming from the patient's eyelids, possibly leading to septicemia and other serious infections.
The candies can also lead to death in extreme cases, especially in those who are allergic to sugar or the contents of Smarties. "It is an irritant; it can cause wheezing and maybe chronic cough and asthma and sinus complications. And, ultimately, if someone is allergic to sugar or the contents of Smarties, then they could end up having an anaphylactic reaction and dying," Dr. Gail Burstein, Erie County health commissioner told The Sun. Last year, 15 students were identified as participating in snorting Smarties at the Frontier Middle School in Erie County.
Smarties candy consists of dextrose, citric acid, calcium stearate, flavoring, and coloring agents but does not provide any high for consumers.
Published by Medicaldaily.com