Mike Williams' Hamstring Injury: Buccaneers WR Out For Season, Will Undergo Surgery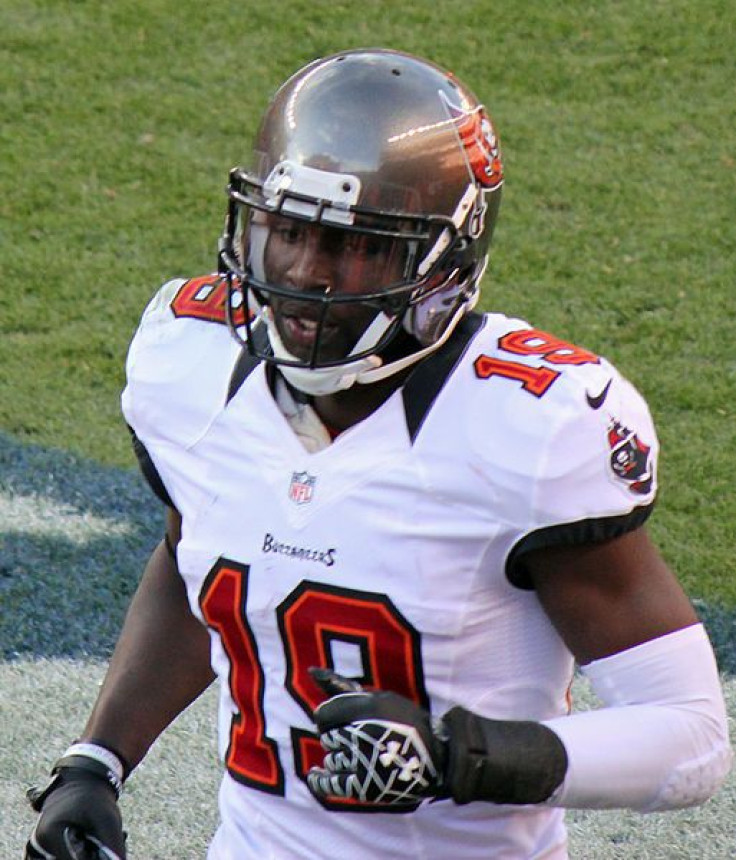 It's not a great year for the Tampa Bay Buccaneers. They're winless after seven games, and now they've lost one of their top wide receivers, Mike Williams.
Williams, who ended his 2013 season with 22 catches for 216 yards and two touchdowns, will undergo hamstring surgery for the injury he sustained on September 29 in a game against the Arizona Cardinals. "Mike had a hamstring injury that he tried to play through, but just wasn't effective doing it," coach Greg Schiano told the Tampa Bay Times. "He'll get surgery now, and it'll be repaired. He'll be fine, but it'll be a little bit of a recovery."
According to the Mayo Clinic, hamstring strains are classified in terms of severity as first, second and third degree strains. While grade one strains are fairly common — causing a cramp of tightness in the hamstring — grade two and three strains are sore to the touch and cause a great deal of physical pain and discomfort. Patients who have completely torn the muscle tissue will typically see a large bruise appear below the injury site due to the bleeding within the tissues. When there is a complete rupture, like that suffered by Williams, patients have to undergo surgery to repair the hamstring muscle followed by approximately three months of rehabilitation.
After his initial injury, Williams consulted with doctors to see if he could try to play with a torn hamstring weeks following his injury. The wideout was inactive against the Philadelphia Eagles game on October 13 but returned to the field for the two games after that.
Williams is a tough player, and to this point had not missed a single game in his NFL career, starting 52 of 54 games with 215 receptions for 2,947 yards and 25 touchdowns. The fact that he sat out the Eagles game highlighted the severity of the injury. "Mike had a hamstring injury that he tried to play through, but just wasn't effective doing it," Greg Schiano told AP Sports. "I think we've put Mike is a bad spot. He's thrown too many passes. ... We shouldn't put him in that spot as coaches."
The NFL player's injury leaves Buccaneers rookie quarterback Mike Glennon with just one established receiver — Vincent Jackson. Since Glennon (a third-round pick) has taken over behind center, Jackson has had 100-yard games in two of Glennon's four starts, the Washington Post reports. Coach Schiano remarked that Williams' injury is just part of the NFL life. "The next man will get the opportunity, and we'll go with that," he said about shifting around the Buccaneers roster. Williams' absence will leave room in the starting lineup for more playing time for Chris Owusu, Eric Page and Skye Dawson — wide receivers who could possibly help lead a winless team to their first victory of the season. Nevertheless, the franchise remains hopeful that the star wide receiver will return to the NFL better than before:
The Buccaneers are second to last in the NFL (Jacksonville Jaguars are last) in total offense, averaging 297.7 yards per game, and face the Seattle Seahawks (7-1) on November 3 in Washington.
Published by Medicaldaily.com