Miracle Of Life: Husband Uses GoPro To Film Wife Giving Birth Outside Hospital After Driving 95 MPH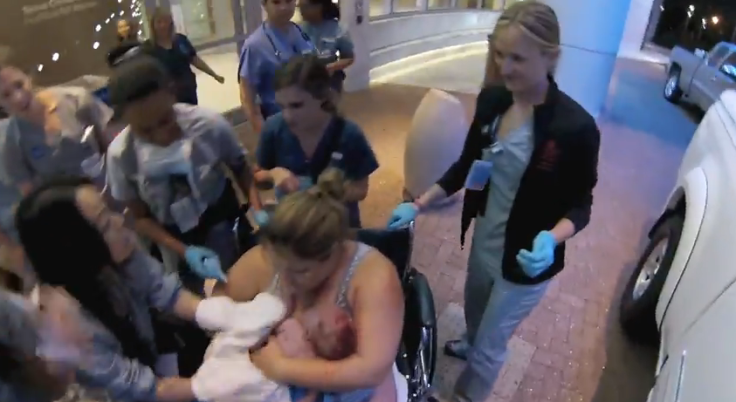 It is not uncommon for expecting parents to film the birth of their child in the delivery room, especially for a Texan couple of three. Dad-to-be Troy Dickerson and his wife, Kristen Dickerson, filmed the births of their first two children, so the birth of baby number three was no exception. Troy strapped the GoPro camera on his head while driving at 95mph to the hospital, before Kristen got out of the car, stood up, and made a curbside delivery in front of Texas Medical Center.
The 10-minute YouTube video, which has already received over 270,000 views, starts with the couple driving along the freeway. It is in between bouts of pain, 42-week pregnant wife tells her husband she doesn't think she can make it to the hospital, and to stop at a closer location. "I can't make it! I can't make it," said the expecting mom. "We need to stop."
It is not until Troy pulls up near the hospital entrance where his wife exclaims she can feel the baby's head. Eagerly getting out of the car, Kristen finds herself unable to move, as she stood and knew she was giving birth at that moment. "I said, 'On the next contraction, push.' And on the next contraction, she pushed, and he came flying out," Troy told Click2Houston.
A team of 10 nurses came to assist Kristen, who is a childbirth educator at the Texas Children's Hospital Pavilion for Women. The mother of three was scheduled for induction the next day. Kristen was thrilled to have the footage of her unusual birth, she told ABC News. "I'm more hesitant to send it to people, because it's such an intimate moment for us, but as a birth educator, it's really cool to let people see that our bodies know what to do."
It is rare for women to unexpectedly give birth at home or in the backseat of a taxi, especially if it's their first baby, but emergency pregnancies do happen. In less than one percent of births, a woman who's had no labor symptoms, or only intermittent contractions will have a desire to push, signaling the arrival of the baby. In emergency pregnancies, women are always instructed to call 911.
Published by Medicaldaily.com