Missouri School Swaps Blind Child's Cane With Pool Noodle As Punishment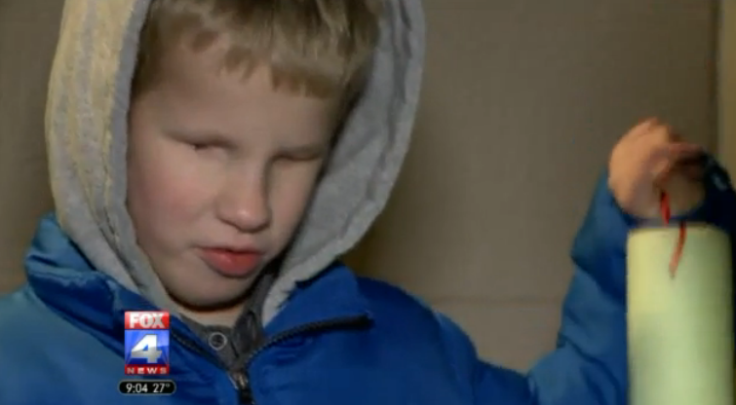 After a blind 8-year-old lifted his cane and appeared to be a "threat" to himself and others on a school bus, an elementary school punished him by taking away the cane and handing him a pool noodle to help him walk instead. The school, Gracemor Elementary School, is located in Kansas City, Mo.
Dakota Nafzinger, who was born without eyes — a condition known as Bilateral Anopthalmia — isn't allowed to have his cane back for another two weeks. According to School District Spokeswoman Michelle Cronk, Dakota hit another student with his cane on the bus — and their way of rectifying that was handing him a pool noodle because he "fidgets" without a cane.
"They said they were going to give me this for the next two weeks," Dakota told FOX 4 in Kansas City.
His father, Donald Nafzinger, told FOX 4 in Kansas City that Dakota often lifts his cane but the bus driver thought he was being violent. Donald and Dakota's mother both feel the action was unnecessary and humiliating, especially since Dakota relies on his cane to help him get around, his cane serving as his eyes.
Anophthalmia is often caused by a mutation in the Sox2 gene, which prevents it from producing the Sox2 protein that helps in regulating other genes that develop in the eye. But in some cases, Sox2 isn't the only gene involved in the disorder: others include OTX2, CHX1, and RAX — which are all important in retinal expression. Interestingly, some studies have shown that the environment may also play a role in the development of anophthalmia, such as when children had gestational-acquired infections. There are some viruses, such as toxoplasmosis, rubella, and some strains of the influenza virus, that have been shown to cause anophthalmia.
Currently, Dakota doesn't have too many options to treat his disorder: doctors still haven't developed a way to create new eyes for patients.
The Nafzingers are protesting their son's punishment, but it's not known yet whether he'll be given his cane back. "All around, he's a good little guy, and he shouldn't be treated the way he's being treated," Donald Nafzinger told FOX 4.
Published by Medicaldaily.com