MMA Fighter With Down Syndrome, Garrett Holeve, Suing Florida Boxing Commission For Not Letting Him Compete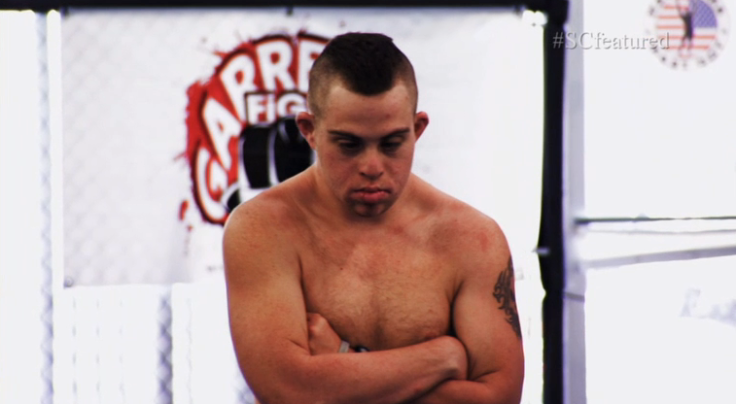 "I can (do it). Don't mess with me," Garrett Holeve told Today. "I'm a blue belt." The 24-year-old was referring to his skills as a Mixed Martial Arts fighter. He's ready to fight the best of the best, but unfortunately there are people standing in his way.
He's suing the Florida State Boxing Commission and other organizations that aren't letting him compete. It started last August after the boxing commission stopped a fight between Holeve and other boxer David Steffan who has cerebral palsy. "This is a fair match-up," Holeve's father, Mitch Holeve, told Today. "We think that their limitations kind of offset themselves. He's not trying to take on [three-time UFC welterweight champion] Georges St-Pierre."
Mitch believes that this apprehension is rooted from ignorance, which is why he hired an attorney to take on the boxing commission. He also says that those people who call him irresponsible have no idea what they're talking about. "They've never met my son. If they were in my shoes, and they did anything different, then I think they'd have to do deal with the consequences of not doing what he loves to do," he said.
The National Down Syndrome Society also stands with Garrett and his dad. "Many MMA trainees seek to fight in official bouts as a natural progression in the sport. Mr. Holeve is no different — he wants to progress in the sport and needs to take the next step, and he has tried to take the next step. But despite being qualified to fight an opponent of equal experience and ability, the Florida Boxing Commission, through amateur sanctioning organizations, has prevented Mr. Holeve from taking that next step," they said in a statement.
The NDSS also started a petition against the Boxing Comission on Garrett's behalf, and so far 113,823 have signed it. Garrett also has the support of former UFC Championship fighter, Stephan Bonnar. He tweeted the petition and added the blurb: "Please sign petition to let @GarrettsFight aka G$ fight!!" — using the hashtag #letgarrettfight.
The trial is supposed to start this December, so in the meantime, Garrett is focusing on his training and other aspects of martial arts. He has also started helping kids learn martial arts as well. "I feel good that I've been helping them," he said. "I'd like to do it more, if I can."
Published by Medicaldaily.com