Model Shows Belly Rolls And Unshaved Armpits On Instagram As Reminder That No One Is Perfect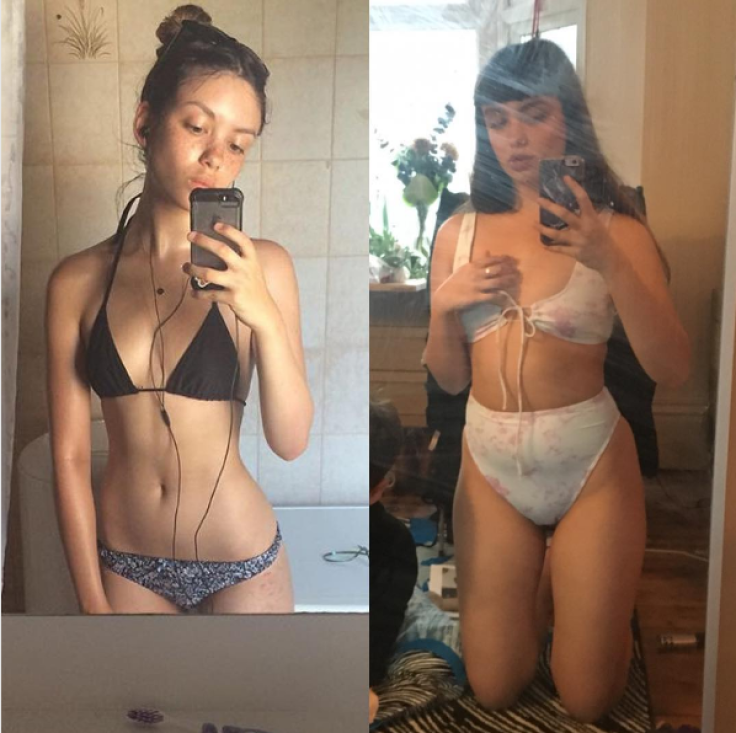 We're not perfect, but the filters of Instagram and airbrush of fashion magazines clean up a lot of imperfections. Recently, British model Emily Bador made headlines when she posted untouched photos of herself to social media to remind us of the dangers of unrealistic body portrayals by the media. In addition, Bador relayed her own struggles with body issues, highlighting how even models can have real physical and health challenges.
Bador, 20, put her imperfections on display via Instagram to show us all that it's "okay" to be imperfect. In fact, no one's perfect when you look closely. In a series of photographs, Bador showed images of herself at her lowest weight, a UK size 4/6 (U.S. 2/4) next to images of her at her current weight. She also showed herself with visible belly rolls and unshaved underarms. Bador also shared her own personal struggle with body image to accompany the posts.
Read: Anorexia And Bulimia: Brains Of People With Eating Disorders Communicate Backward
"During 2015, I became obsessive with my measurements and clothes sizes. i exercised daily and i would never even look at any carbs let alone eat them," writes Bador. "It started making me physically sick, dizzy, exhausted, etc. i ended up getting to a point where i'd have daily panic attacks about getting dressed, and couldn't even leave my bed in fear of catching my reflection in the mirror."
Although Bador did not explicitly cite having an eating disorder in the post, her obsession with food and body image is characteristic of a number of eating problems. These may include irregular eating habits and severe stress about body weight or shape. According to Eating Disorder Hope, this may be eating far too much or too little and having unrealistic perceptions of body image. These disorders affect both men and women, although they are more common in women.
In addition to struggling with the pressures of staying thin, Bador also opened up about her difficulties as a mixed-race woman (she is half Black, half Malaysian), Cosmopolitan reported.
"Before [I started modeling], I never really questioned my ethnic identity or how bad my body issues or anxiety were. I could get by," Bador told Elle UK. "It's shocking how many models suffer with these issues too. Someone from my agency once said anxiety comes with the industry. Everyone has it or knows someone who's experienced it."
Bador called on the modeling industry to address this problem by not adding the random "token" diverse model to a shoot, but displaying more overall diversity in the industry.
See Also:
Brain Size Linked To Eating Disorders: Anorexics Have More White Matter And Gray Matter
Prevent Obesity, Eating Disorders In Teens By Encouraging A Balanced Lifestyle, Researchers Say
Published by Medicaldaily.com