Mom Arrested For Denying Sick Newborn Meds Over Vegan Beliefs: Is A Vegan Diet Safe For Infants?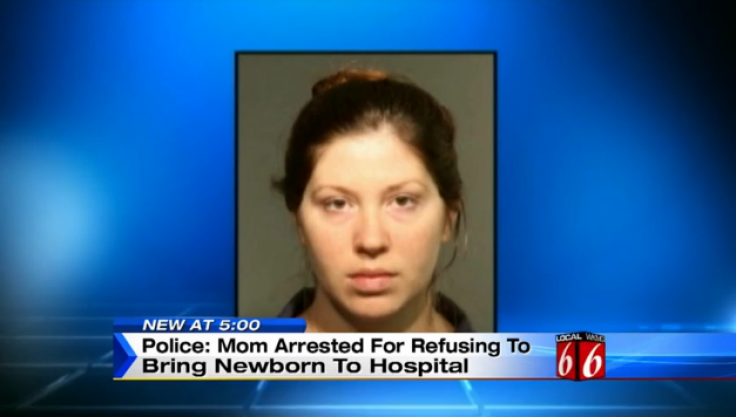 Usually when it comes to a baby's health, mother knows best. However, the mother of a 12-day-old newborn baby, now placed under protective state custody in Florida, failed to acknowledge the obvious signs of dehydration and weight loss. Sarah Anne Markham, 23, was arrested for neglect after refusing to admit her newborn son to Florida Hospital South and for not giving him medicine under doctor's orders.
Rather than take her child to the hospital, the holistic mom went to Whole Foods and bought organic soy formula over fear the infant medicine prescribed contained animal by-products. According to Click Orlando, police asked Markham if the product was confirmed with a doctor that it was safe to give to the newborn. She claimed a holistic doctor prescribed the formula but failed to provide a note or description of the doctor. In an interview with Casselberry police, Markham supported her decision by saying since it was organic, it must be OK for her newborn.
The young mother attempted to justify her negligence of not taking her newborn son to the hospital, declaring she wanted to get a second opinion on her child's condition from a "vegan" doctor and was interested in a holistic treatment. The pediatrician gave Markham a one-hour time frame to take her son to the hospital after a diagnosis revealed he was severely dehydrated and losing weight. However, the vegan mom claimed her baby could not be dehydrated because the infant was still having bowel movements, WESH.com reported.
Although the frequency of bowel movements varies widely from one baby to another, many pass a stool soon after each feeding as a result of gastrocolic reflex. If the baby is formula-fed, like Markham's newborn, it should have at least one bowel movement a day, according to healthychildremn.org. Fewer movements could be a sign of straining due to hard stools, possibly constipation.
The 12-day-old baby was taken to the hospital only after police tried to make contact with the mom and then barged into the apartment to gain access to the unhealthy newborn. Markham was placed under arrest for child neglect but was bonded out from jail Wednesday afternoon. The mom will not be able to see her newborn until a court hearing.
Markham's case, although bizarre, is not unique, as a new generation of mothers wants to raise vegan babies. Although this may stir skepticism and concern, the American Dietetic Association does support well-planned vegan diets as healthy for infants and toddlers. Vandana Sheth, a spokesperson for the American Dietetic Association, and a vegetarian herself, told The Huffington Post, "Vegan eating patterns can be healthy for anyone at any stage of life as long as it well-balanced.
In 2007, a vegan couple was sentenced to life in prison, after their 6-week-old son died of malnourishment from being fed only soy milk and apple juice. The boy only weighed 3.5 pounds. Veganism did not cause the death of this boy, but rather highlight the risks of following a nutritionally restrictive lifestyle, with no adequate knowledge.
Parents who plan to raise their children vegan should be aware their child is getting the adequate amount of iron, calcium, vitamin D, and zinc intake, as well as vitamin B-12. Vegan moms should also ensure they have enough vitamin B-12, especially when they breastfeed, which is important for neurological development. Vegan moms should always consult a nutritionist or registered dietician.
Published by Medicaldaily.com