Farmers Suffering From Non-Hodgkin's Lymphoma Sue Monsanto Over Cancer-Linked Herbicide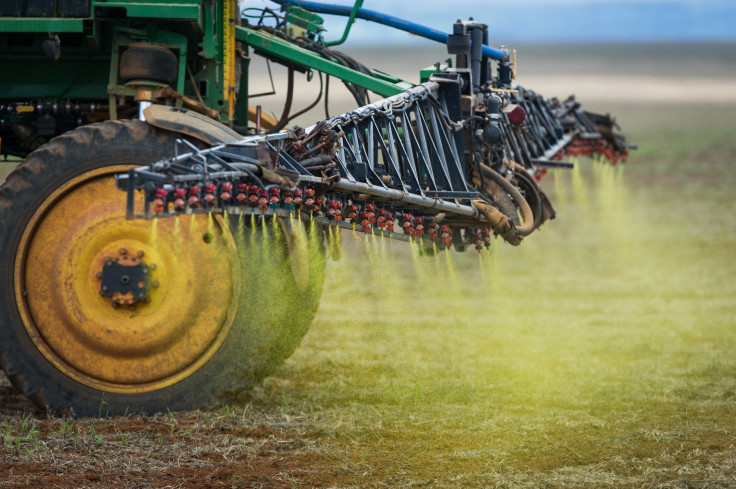 The behemoth agricultural corporation Monsanto can't seem to stay away from controversy, and its latest opponents are dragging the company back into the public health arena. Three Nebraska farmers and an agronomist, who have all been diagnosed with cancer, are suing the company over its widespread herbicide, Roundup — arguing that they were misled about the chemical's safety, and that they developed cancer because of it.
All four plaintiffs developed Non-Hodgkin's Lymphoma and believe that their risk of cancer increased from being exposed to the herbicide over the years. The lawsuit also states that Monsanto "concealed or systematically sought to discredit" the dangers of Roundup, according to the Lincoln Journal Star.
Roundup consists mainly of glyphosate, a chemical that effectively kills weeds, supposedly without harming the crops themselves. Roundup is typically sold in bulk alongside Roundup Ready seeds, which can be covered with the herbicide without damage. And it's an incredibly widespread chemical: According to the U.S. Department of Agriculture (USDA), over 90 percent of soybeans in the U.S. are genetically engineered to handle herbicides, with Round Up monopolizing the market.
In recent years, scientists have begun questioning the safety of Roundup. In 2014, French scientists published a study finding that people exposed to glyphosate had double the risk of developing non-Hodgkin's lymphoma. And last year, the WHO's International Agency for Research on Cancer (IARC) noted that glyphosate "probably" causes cancer, though current evidence was limited. Small amounts of the chemical have been detected in food, water, and air after spraying, and is believed to affect farmers or other agricultural workers the most.
As a dispute to the WHO report, Monsanto gathered a group of scientists to prepare a counter study on Roundup's link to cancer, and claimed there was no association. "'Probable' does not mean that glyphosate causes cancer; even at 100 times the exposure that occurs during normal labeled use glyphosate is not a human health risk," Monsanto states on its website. And even more recently, the WHO issued another report that found that given the herbicide's current levels of exposure in the air or in food, it's unlikely to cause cancer.
Still, the farmers who are suing the company remain stalwart in their argument that Monsanto downplayed the negative health effects of Roundup. "Monsanto championed falsified data and has attacked legitimate studies that revealed Roundup dangers," the lawsuit states. "Monsanto led a campaign of misinformation to convince government agencies, farmers and the general population that Roundup is safe. Its continuing denial extends to the date of this Complaint."
Published by Medicaldaily.com