More Surgical Patients 'Burned' By Regulatory Oversight Of Robotic Devices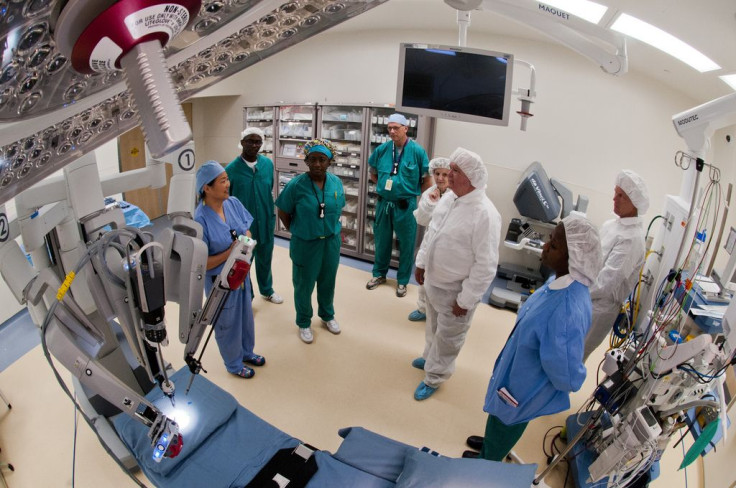 As modern medicine becomes increasingly reliant on machines, more patients say they've been "burned" by regulatory failure in the U.S. health care market — with thousands of surgeries conducted every year by robotic systems.
Shenna Wilson, a 45-year-old mother of two from Parlin, N.J., told Bloomberg this week she'd gone into surgery with no knowledge of past adverse safety reports made to the Food and Drug Administration (FDA) with regard to a robotic system from Intuitive Surgical Systems Inc. The woman's rectum was badly burned in May during a hysterectomy employing the device, leaving her to soon face a third corrective surgery. Since the botched operation, the injured patient has filed suit against Intuitive Surgical and her former doctor, living on long-term disability benefits with fear of losing her job.
"If I had known there were other people who had injuries, I would never have done this surgery," Wilson said Monday. "Whatever they have in place is not working."
Bloomberg found dozens of injuries associated with the system that went unreported for years in the FDA's adverse reporting system, suggesting a fundamental problem with the regulatory scheme.
Indeed, the Institute of Medicine (IOM) in 2011 found the FDA's 510(k) regulatory process flawed "based on its legislative foundation. "Rather than continuing to modify the 35-year-old … process, the IOM concludes that the FDA's finite resources would be better invested in developing an integrated premarket and post-market regulatory framework that provides a reasonable assurance of safety and effectiveness throughout the device lifecycle," investigators concluded.
Although the FDA publishes an adverse events database, the agency lacks the authority to compel doctors and hospitals to make such reports. Although federal law requires hospitals to make such reports, few bother to do so, experts say.
David Challoner, a public health expert at the University of Florida, co-wrote the IOM report criticizing the FDA's system for medical devices, which range from wooden tongue depressors to nuclear medicine. "The adverse event reporting system is a disaster," Challoner said. "Every link in the chain has a reason not to report."
Yet the FDA adds a bit of nuance. William Maisel, the agency's top scientist on device regulation, says the agency remains "well aware of under-reporting of adverse events" but is striving to make administrative improvements. "Even if there is under-reporting, it doesn't mean you can't draw conclusions from the data," Maisel said.
Likewise, a spokeswoman for Intuitive Systems says safety data on the company's products remain available through multiple data sources — just not on one page. Information freely available in national surgery databases and clinical research reports form a "clear picture," Angela Wonson said. Often, she added, the company won't learn of an adverse outcome until a patient files a legal claim.
Meanwhile, more patients continue to experience adverse events with robotic surgical systems, whether reported or not. Anupama Raaman, 46, spent four months hospitalized in 2010 after a botched hysterectomy with an Intuitive robot left her with a hole burned in her intestine, an event she says went unreported by doctor or hospital. "I find it very strange that this has not been reported," Raaman told Bloomberg in a telephone interview.
The FDA approved the robotic surgery system in 2000 after Intuitive conducted a clinical trial in a Mexico City hospital, assessing the robot's performance on 233 patients who received either gall bladder removal surgery or heartburn operations. By last year, surgeons were using the versatile device for operations ranging from hysterectomies to heart-valve and head-and-neck operations.
Given the speedy adoption of such surgical devices, some experts say blame should rest more on the doctor than on the device maker. Enrico Benedetti, head of surgery at the University of Illinois at Chicago, says many doctors began operating with the new machines with minimal instruction and practice. "Most of these issues really come back to training," he said.
Already, the surgeon has performed some 400 operations using Intuitive's machine, which he calls "reliable."
Published by Medicaldaily.com