Most Prosperous Country: What The US Can Learn From Norway About Prosperity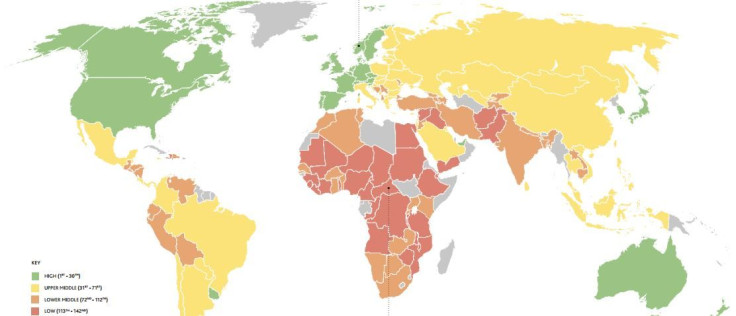 Congratulations are in order for Norway, again: The annual Legatum Prosperity Index ranked the country number one out of a total of 142, followed by Switzerland, New Zealand, Denmark, Canada, and eventually the United States in the number 10 spot. We say again because a mere two months ago, the 2014 Global AgeWatch Index bestowed Norway the honor of being the best country for longevity.
What is prosperity? The LPI factored in eight pillars, or principles, including economy, entrepreneurship and opportunity, governance, education, health, safety and security, personal freedom, and social capital. Since prosperity generally means success, economic growth is the most important factor, right? Not quite, Sian Hansen, executive director for the Legatum Institute, said in the index report; it's just one dimension of national success. "Traditionally, a nation's prosperity has been based solely on macro-economic indicators, such as a country's income. … However, most people would agree that prosperity is more than just the accumulation of material," Hansen said. "It is also the joy of everyday life and the prospect of being able to build an even better life in the future."
Though Norway received lower marks for entrepreneurship and opportunity (a climate in which citizens can purse new ideas and opportunities), governance (a democratic government that helps stimulate increases in per capita income), and safety and security (threats to national security and personal safety), they scored top five across every other pillar. Central African Republic, on the other hand, ranked 142nd, while Yemen, Burundi, and Chad solely scored in the red. New Zealand rose to third place after improved scores on social capital and personal freedom, and the U.S. rose seven places on the economy sub-index. Russia was found the worst performing country in Europe, falling seven places to 68th from last year's ranking.
If you were to simplify these findings, the most prosperous countries were those with lower levels of inequality and higher levels of mobility (the ability to move up and down the social ladder in comparison to a person's parents). This isn't to say a decrease in one area can lead to an increase in another; the key, according to the index, is more equal access to opportunity. "In order to boost more prosperous countries, governments should implement policies that improve access to opportunity for children regardless of family background and address both cash and class gaps," Hansen and her team explained. "The focus on family, schooling, health, and community should be high on the policy maker's agenda in order to avoid the dangers of a divided nation and low future prosperity."
The report goes into detail about what factors into each individual pillar, how it leads to success in other pillars, and what each country can take into consideration. Spending more on health care, for example, led to better health outcomes. But increasing health care alone isn't an efficient way to better a nation's health. Improved governance means improved health care, and healthy people are proven to succeed more in school and the workplace. It's refreshing to see how much an individual's well-being factors in an entire country's success.
So what can the U.S., and every other country, learn from the number-one seeded Norway? A deep understanding of income, health, personal capabilities, as well as promoting a healthy, trustworthy, and safe environment benefits every individual. It even adds years to their life.
Source: LEGATUM INSTITUTE, The 2014 Legatum Prosperity Index
Published by Medicaldaily.com