Most U.S. Kindergartners Getting Vaccines, Risks Remain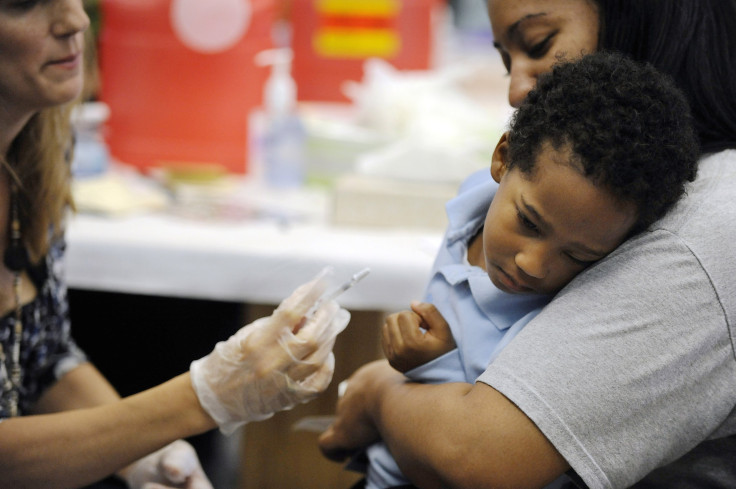 Most U.S. kindergartners received the recommended vaccines for measles and other preventable diseases during the 2011-12 school year, but local clusters of unvaccinated children still pose a health risk, federal health officials said on Thursday.
More than 95 percent of kindergartners were vaccinated for diphtheria, tetanus, acellular pertussis, polio and hepatitis B, meeting federal guidelines, the Centers for Disease Control and Prevention said in a new report.
The study found 94.8 percent of kindergartners had received the measles, mumps, and rubella vaccine, and 93.2 percent got the recommended two doses of vaccine for chickenpox, slightly below the federal government's target levels of 95 percent or higher vaccination rates.
The study by the U.S. public health and safety agency, which included data from 47 states and the District of Columbia, found pockets where children had not been vaccinated or there was a low rate of coverage. The report did not specify where these clusters were located.
"Although statewide levels of vaccination coverage are at or very near target levels, locally low vaccination coverage for extremely transmissible diseases such as measles remains a threat to public health," the CDC said.
Last year, there were 17 outbreaks of measles and 222 measles cases in the United States, the highest since 1996, the CDC said.
Most of the cases involved unvaccinated patients who contracted measles in other countries, highlighting the importance of high vaccination rates among U.S. school children, said Dr. Melinda Wharton, deputy director of the CDC's National Center for Immunization and Respiratory Diseases.
"It is of concern when we have these communities in the United States where there's enough people who have made this decision [not to vaccinate] that if the measles virus is imported from overseas, that it could actually spread and cause an outbreak," Wharton said.
All 50 states offer medical exemptions to vaccines, and some states provide religious and philosophical exemptions as well, Wharton said.
Exemptions increased slightly in 2011 from 2009, though exemption levels were low overall, the CDC said. Alaska had the highest exemption rate in 2011 at 7 percent, and Mississippi had the lowest at 0.1 percent.
Some parents who skip or delay vaccines for their children cite safety concerns, such as the belief of a link between vaccines and autism. The CDC says research has not uncovered a link between the two.
"Based on all the science that has been done to date, and there's been a lot of it, there's no evidence that vaccines are a causal factor," Wharton said.
@ 2012 Thomson Reuters. All rights reserved.